Claim Compensation for Dog Bite Injuries in Gilbert
If a dog attacked you and caused injuries, you may have a right to compensation from the animal's owner. At JacksonWhite, our skilled team — led by attorney Jared Everton — has helped many dog bite victims in Gilbert and nearby areas.
Dogs bite more than 4.5 million people every year in the U.S., according to the National Library of Medicine. Any dog can bite, even if it has never been aggressive before. Some dogs bite without being provoked or because of fear, surprise, guarding, frustration, or sickness or injury.
Dog bites can cause mild to severe injuries. Some victims may suffer from puncture wounds, eye injuries, broken bones, scarring, or head, neck, or face injuries. If you or a loved one was bitten by a dog, you should schedule a free consultation with a Gilbert dog bite lawyer immediately — call us now at (480) 467-4392.
Dog Bite Laws in Gilbert, Arizona
According to A.R.S. 11-1025, the owner of a dog that bites another person in a public or private place, including the owner's property, may have to pay for the damages suffered by the dog bite victim. The dog's breed does not matter when deciding if a dog is vicious or aggressive.
Arizona is a strict liability state, unlike other states that have a "one bite free" policy. This means that the dog's owner could be liable for damages or injuries even if they did not know the dog could bite someone.
Liability Exceptions in Dog Bite Cases in Gilbert
A dog owner may not have to pay for damages if their dog bites someone who provoked the dog. According to A.R.S. 11-1027, provocation means "circumstances that would be likely to provoke a dog."
The court will also consider other factors when deciding liability. A dog owner may still be liable for dog bite injuries that happen when a person is on their property lawfully, such as a guest. However, if the owner has put up warning signs of a vicious dog on the property and a trespasser is bitten, it could hurt a personal injury claim.
Contact Attorney Jared Everton for Your Gilbert Dog Bite Case
If a dog bite accident in Gilbert, Arizona, has injured you, you need to talk to a skilled personal injury attorney as soon as possible. Jared Everton and his teams can help you know your rights and get you the compensation that you deserve for your injuries. To find out more about our services or to book a free case evaluation with our personal injury law team, call us today at (480) 467-4392.
Meet Jared Everton, Top Dog Bite Accident Lawyer in Gilbert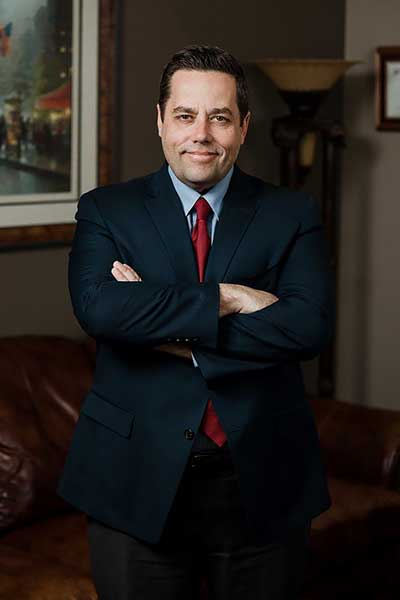 JacksonWhite's personal injury team is led by Jared Everton, who has represented thousands of personal injury victims in Gilbert and throughout the state of Arizona.
As a member of the Arizona Bar Association and the American Association for Justice, Jared has fought fiercely for his clients, in the process earning the honor of the Super Lawyers Rising Star Award. Jared also represents people that have been in motorcycle accidents, car accidents, commercial truck accidents, boating accidents, dog bite injuries, and more.
Schedule Your Free Consultation with JacksonWhite Law
Attorney Jared Everton of JacksonWhite Law is ready to help you get the compensation you deserve after a dog bite injury in Gilbert. Don't delay, call our personal injury team at (480) 467-4392 to talk about your case today!