Introduction
While each and every car accident has both a lasting financial and physical impact on a person's life, the lasting damage that occurs from a commercial truck accident is exponentially more severe than most. Due to their immense size and the heavy loads being transported, semi-trucks trucks are unable to stop and maneuver as well as a regular car on the road and this leads to severe accidents occurring each day.
Federal and state laws set stringent guidelines for commercial truck drivers to follow, guidelines such as requiring a specialized license and training to drive these large trucks. These guidelines exist with the hope that truck drivers are able to skillfully transport goods without injuring other drivers but as we see on the news each night there are still many commercial truck accidents occurring every day.
If you have been involved in an accident with a commercial truck, it is extremely important that you speak with Peoria's leading commercial truck accident attorney, Jared Everton, to set up an appointment and begin to get the help you will need in negotiating a proper settlement with the at-fault trucking company.
Get Compensated for You Truck Accident Injury in Peoria, Arizona
Jared Everton is a personal injury lawyer, and this means that he and his team only represent injured victims of accidents and not the driver and company who are at-fault and liable for the damages their truck caused. Jared and his team look after the victims of truck accidents who without his help are left alone to deal with lowball insurance offers which often are not enough to cover the bills stemming from an accident.
Here's How Peoria's Top Accident Attorney Can Help You
If you have been injured in any type of car accident, insurance payouts and the trucking company's settlements may not be enough to cover all of the costs associated with your accident and this means that you may be required to pay for a good portion of these costs out of pocket. As the victim of a truck accident this is absurd and you should not be required to pay for the actions of another driver and this is where Jared and his team can help you.
Jared and his team have been dealing with the lowball offers of insurance companies for many years, and this has given him the experience needed to protect accident victims from lowball offers that leave them vulnerable. Instead of letting the insurance and trucking company rip a victim off, Jared and his team protect victims and obtain for them the highest settlements possible.
If you were injured in a truck accident, do not rely on insurance to make things right and to pay the bills, allow Jared Everton and his experienced team to assist you in obtaining every dollar you deserve.
Jared Everton, Peoria's Top Personal Injury Attorney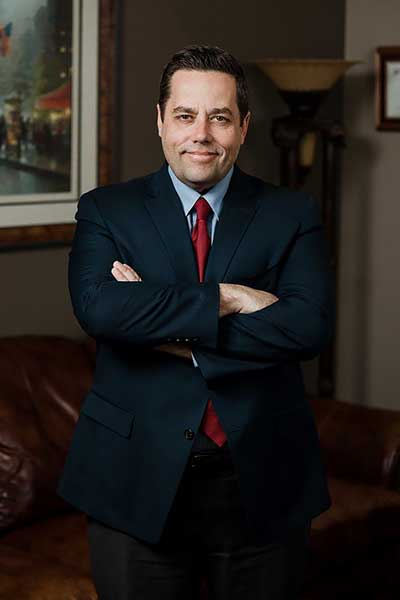 JacksonWhite's personal injury team is led by veteran personal injury attorney Jared Everton who is licensed to practice in the State of Arizona, in front of the United States Supreme Court and the United States Ninth Circuit of Appeals as well as. Jared has dedicated the last 20 years to helping the victims of accidents and he has been especially successful in assisting them in obtaining the best settlements possible for their case.
As a member of the Arizona Bar Association and the American Association for Justice, Jared has diligently protected his clients and has deservingly been awarded the Super Lawyers Rising Star. You can trust that Jared is the leading personal injury attorney in Peoria.
Peoria's Leading Truck Accident Injury Law Team
If you have been injured in a car, truck, or motorcycle accident, Peoria's leading personal injury law team is here to help you get properly compensated. Contact us today to set up your free consultation!
Call Personal Injury Attorney Jared Everton at (480) 467-4392 to discuss your case today.