I highly recommend JacksonWhite Law, the team worked diligently to get everything done for me in a speedy manor. I have complete faith in the work they did for me. I was surprised and elated at the reasonable rate they charged and what I got for my money. They were all fabulous!
Evan was incredibly helpful. I highly recommend reaching out through their 24/7 consultation hotline. I learned a lot more about a complicated situation and Evan was able to explain everything to me and help me understand the risks and best courses of action available to me.
All of my interactions with Jackson White personnel has been the greatest, from our first meeting with Melissa Henak, the attorneys and Alexa Lawrence. Everyone helped and guided me through a rough time. Well worth the money to hire them!!!Thank you all!!!Sheila & Family
Not happy with the lack of communication and their email filtering
The Jackson White team really helped us fight the good fight in terms of helping my elderly Mother get into ALTCS. In addition, we were desperately engaged in some serious legal action in terms of guardianship and conservatorship. The team walked the road with us each step of the way. My family and I thank them and whole-heartedly recommend this firm for any and all elder care legal matters.
I have been a client of Jackson White Elder Law for over seven years. They have helped me with estate planning, elder care, and the estate settlement of my parents. My only regret is that I didn't go to the law firm sooner. They came to the house and explained exactly what they do and how their services would help us. Their costs were clear and up front. Through their advice thousands and thousands of dollars were saved. With their help our family avoided financial ruin. My mom suffered from dementia that required her to be placed in a memory care facility. Jackson White assisted us to get mom into a clean, safe, wonderful place where she was cared for full time. They also took care of financial and estate planning, health care directives and power of attorney. At the end everything went smoothly as planned. Our experience with Jackson White has been great and I highly recommend their law firm.
This was my first accident and I had no clue what to do or where to start after. Wasnt just me in the accident but my family. I reached out to Jackson White and thats when I met Daniel Melchor. He took care of everything for me. Made the entire process an ease and kept me informed every step of the way. I felt like he cared about my situation and am genuinely happy with the out come. He got me exactly what I asked for. Thanks Daniel Melchor
When I was having difficulty with probate of my daughter's estate, Jackson White Law was recommended by another great law firm. They didn't let me down. Jackson White Law was very patient with me. They were extremely professional and resolved my problem in a timely fashion. Also the cost was reasonable.
I recommend these guys to anyone who gets into an automobile accident, they are great! My boyfriend and I got into a 3 car pile up earlier this year and we was the middle vehicle. At the time I was 3 months pregnant and im also high risk. This was added stress I didn't need. They made the entire experience so easy. Really taking the stress off my shoulders. My boyfriend didn't have health coverage and at first we could not get him the treatment for his injuries that was much needed. Again added stress I didn't need. We couldn't get the insurance co to take our calls or work with us. So thats when I suggested we find an attorney. He did some research and this law firm was recommended by another. Once they got involved it was such a relief. We got exactly what we wanted and what we felt we deserved. They treated us a priority and made us feel important. I'm more then satisfied with the outcome and our over all experience. What a great team of people and such a beautiful firm too. We was so happy that after, even with the pandemic, we wanted to say thank you in person and shake hands. So we did. Thanks to all those at Jackson White who made this experience a breeze!I would like to add a special thank you to Daniel Melcher who worked with us personally throughout the entire process. He was professional, courteous, and never made us feel out of the loop. Thanks for all the hard work and for putting 100 percent into our case. We appreciate you and all you did for us.
They have been a godsend to me when I was struggling to know what to do they knew the answers. I trust them and now they continue to provide the support I need. Always quick to respond when I email or need to leave a voicemail with questions.Thank you so much!
Very helpful! Quick responses to questions with clear explanations.
I have found JacksonWhite Law to be knowledgeable, friendly, and timely. My case is a bit complicated because I function as conservator and Guardian of my ward under a court in another state while Arizona is the residence state for my ward. JacksonWhite has kept things working for me and my ward with little effort from me. They simplify my life and responsibilities.
My family has used JacksonWhite Law services for my mother's ALTCS for the past 5 years. We have been very happy and pleased with their help. I would recommend their services to others.
JacksonWhite Law was recommended by a knowledgeable colleague as the best company to assist me in navigating the Arizona Long Term Care System. After a very helpful telephone interview with senior attorney Richard White, and completing the preparations he recommended, I met with attorney Eric MacDonald who reviewed my paperwork and patiently described the process and what was expected of me. Thanks to these fine attorneys my aging relative was accepted into ALTCS. From acceptance until now I have worked with the extremely efficient elder care specialist Shannon Campbell. Ms. Campbell's efficiency, compassion and thoughtfulness have been very welcome during a difficult time, and I am immensely grateful for her attention to my case.
John and his team handled my bankruptcy case very professionally and timely. They answered all of my questions and handled everything for me. Whenever I called or sent an email they got back to me promptly. I would definitely recommend this law firm!
They handled my case and I am extremely satisfied. Their responsiveness and good communication made the whole experience great. I would not hesitate to refer them to anybody. Thanks again for the the assistance.
RE John Skiba, attorney for Debt Relief & Bankruptcy. I contacted John regarding 2 judgments that were granted in Maricopa County in 2013. I had LOTS of questions & troubling concerns about foreclosing on my totally paid off home and if I were to sell it, what problems I might encounter.  After a 30 min consultation, John TOTALLY set my mind at ease. He answered EVERY one of my questions & gave me recommended options and actions to take or NOT to take.  I was impressed that BEFORE our conversation, he did research on the HOMESTEAD act changes coming in 2022 AND the actual judgments... so when we spoke & I questioned things he was already TOTALLY aware   and had no reservations about recommending possible outcomes.  AND he advised me that IF we chose to negotiate for a settlement it would be wise to be prepared to offer 20-40% of the original judgment  (in my case), which was also good news.    ALL of this was EXTREMELY encouraging & DE-STRESSING.  John is GOOOOOD.  I never felt "talked down to " or criticized... He truly appeared to be looking for ALL solutions & possibilities WITHOUT me having to ASK & ASK & ASK... I never felt like I was " pulling teeth" to get information needed... He was knowledgeable & prepared for all scenarios.  This consultation was a MAJOR success in my book ... Got ALL that I wanted & needed to know and I have a HUUUUUGE sense of relief, actually knowing what I CAN & SHOULD do... Way to go John. ! ! ! ! ! .. THANK YOU THANK YOU THANK YOU
Even though I wasn't able to use their services, Mya was extremely helpful on the phone. I'll definitely be keeping their number for the future. She was responsive and went above and beyond to help me.
I had a difficult financial case and I was getting worried but Mr. John Skiba was up to the task .Explained everything in detail and got the best option for me .I appreciate everything he and his staff did for me. If you're having financial difficulties I highly recommend you hire John Skiba for the job.
It's with great gratitude that we recommend The Jackson White Law Firm. The office staff was with us from the start of our mother's ALTCS application & was able to secure an approval for her & our family.We simply couldn't have done it without them!The have our 5 Star approval rating for their response time & professionalism.Sincerely. The Kinsell family
 JacksonWhite Law
Let Personal Injury Attorney Jared Everton Guide You With Care
We understand how devastating an injury can be, that's why we work tirelessly to help our clients get the results they deserve. At JacksonWhite, we've helped thousands of people in Arizona secure the settlements and compensation they deserve for their accidents and injuries. When you're ready, we can help you next.
To learn more about our personal injury services, call our office today at (480) 467-4392.
How Our Team Can Help You
When the negligence or harmful actions of others impacts your health and well-being, you may be unsure of what next steps to take next and your attorney can make all the difference. Our skilled personal injury attorney, Jared Everton will provide you with the answers and advice you need to make sure that every aspect of your injury case is handled. For more than 20 years, JacksonWhite has helped hundreds of clients get effective personal injury and accident representation when it mattered most. Our experienced and compassionate personal injury team will work tirelessly for your safety and well-being and see to it that you receive proper compensation for your injuries. To see how we can help with your injury or accident case, call us today at (480) 467-4392.
Meet Personal Injury Attorney Jared Everton
Jared has been successfully advocating for the disabled and injured for over twenty years and has a passion for assisting his clients in obtaining redress for their injuries under the law. Jared also represents individuals seeking social security disability benefits through the appeals process. He has extensive experience and success litigating such matters in various Arizona state and federal courts.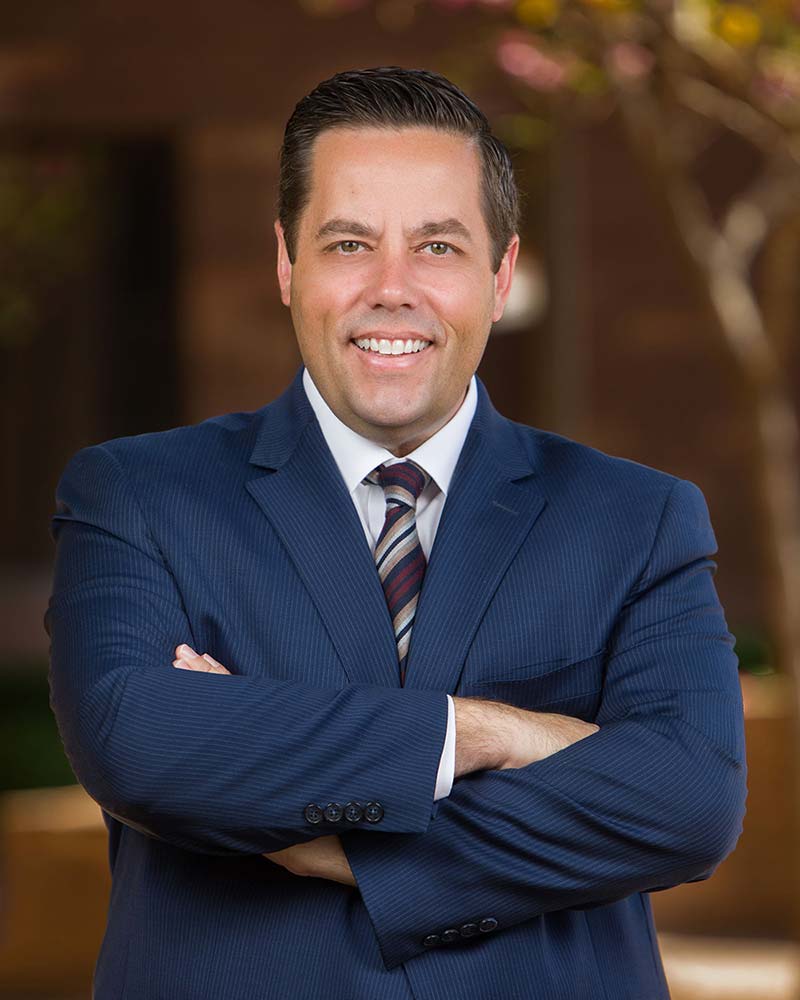 Schedule Your Free Consultation
Fill out the form below to get your consultation and discuss your best legal options.
Get Your Free Consultation