I have found JacksonWhite Law to be knowledgeable, friendly, and timely. My case is a bit complicated because I function as conservator and Guardian of my ward under a court in another state while Arizona is the residence state for my ward. JacksonWhite has kept things working for me and my ward with little effort from me. They simplify my life and responsibilities.
My family has used JacksonWhite Law services for my mother's ALTCS for the past 5 years. We have been very happy and pleased with their help. I would recommend their services to others.
JacksonWhite Law was recommended by a knowledgeable colleague as the best company to assist me in navigating the Arizona Long Term Care System. After a very helpful telephone interview with senior attorney Richard White, and completing the preparations he recommended, I met with attorney Eric MacDonald who reviewed my paperwork and patiently described the process and what was expected of me. Thanks to these fine attorneys my aging relative was accepted into ALTCS. From acceptance until now I have worked with the extremely efficient elder care specialist Shannon Campbell. Ms. Campbell's efficiency, compassion and thoughtfulness have been very welcome during a difficult time, and I am immensely grateful for her attention to my case.
John and his team handled my bankruptcy case very professionally and timely. They answered all of my questions and handled everything for me. Whenever I called or sent an email they got back to me promptly. I would definitely recommend this law firm!
They handled my case and I am extremely satisfied. Their responsiveness and good communication made the whole experience great. I would not hesitate to refer them to anybody. Thanks again for the the assistance.
RE John Skiba, attorney for Debt Relief & Bankruptcy. I contacted John regarding 2 judgments that were granted in Maricopa County in 2013. I had LOTS of questions & troubling concerns about foreclosing on my totally paid off home and if I were to sell it, what problems I might encounter.  After a 30 min consultation, John TOTALLY set my mind at ease. He answered EVERY one of my questions & gave me recommended options and actions to take or NOT to take.  I was impressed that BEFORE our conversation, he did research on the HOMESTEAD act changes coming in 2022 AND the actual judgments... so when we spoke & I questioned things he was already TOTALLY aware   and had no reservations about recommending possible outcomes.  AND he advised me that IF we chose to negotiate for a settlement it would be wise to be prepared to offer 20-40% of the original judgment  (in my case), which was also good news.    ALL of this was EXTREMELY encouraging & DE-STRESSING.  John is GOOOOOD.  I never felt "talked down to " or criticized... He truly appeared to be looking for ALL solutions & possibilities WITHOUT me having to ASK & ASK & ASK... I never felt like I was " pulling teeth" to get information needed... He was knowledgeable & prepared for all scenarios.  This consultation was a MAJOR success in my book ... Got ALL that I wanted & needed to know and I have a HUUUUUGE sense of relief, actually knowing what I CAN & SHOULD do... Way to go John. ! ! ! ! ! .. THANK YOU THANK YOU THANK YOU
Even though I wasn't able to use their services, Mya was extremely helpful on the phone. I'll definitely be keeping their number for the future. She was responsive and went above and beyond to help me.
I had a difficult financial case and I was getting worried but Mr. John Skiba was up to the task .Explained everything in detail and got the best option for me .I appreciate everything he and his staff did for me. If you're having financial difficulties I highly recommend you hire John Skiba for the job.
It's with great gratitude that we recommend The Jackson White Law Firm. The office staff was with us from the start of our mother's ALTCS application & was able to secure an approval for her & our family.We simply couldn't have done it without them!The have our 5 Star approval rating for their response time & professionalism.Sincerely. The Kinsell family
Tyler White and his team are amazing. Everyone made navigating the daunting and overwhelming process of ALTCS for my ailing father much less stressful. Shannon went above and beyond to help me. I appreciated Tyler's quick, polite and professional responses to my many questions. I could not have done this without them, nor would my dad be able to stay in the incredible place he's at without all their help.
They were wonderful to deal with during this trying time with our mother; I would highly recommend JacksonWhite Law. They were professional, understanding, helpful and very knowledgeable with Elder Law.
I engaged JacksonWhite to navigate entry into the ALTCS system on behalf of my father. They were always responsive and professional, communications were great, and the overall service was exceptional. Very highly recommended.
I highly recommend JacksonWhite Law! They all are professional, highly efficient, knowledgeable and were most helpful to me to qualify for the ALTCS program. It was a pleasure working with everyone at JacksonWhite Law. Thank you very much!!
My experience with Jackson White Law was Great! Worth every dollar! The benefits that were allowed by ALTC for my husband's care, were equal to my attorney fees! In other words; I gained more dollars, than what the cost in the 2nd year of his care! This would have not occurred without the attorney's intervention!As well I had the peace of mind that all forms were filled out correctly! Approval was fast! And I did not have to go thru probate upon his passing because of the advance directives filed with Arizona State by Jackson White Law firm!They have my full recommendation!
Justin W. Is hands down the best lawyer I've ever met. Very responsive, attentive to details, personable, I had a impossible case and he got all charges dismissed within 5 minutes of being in the courtroom. Please promote that guy! Also Sheryl is very good at keeping you updated with info through emails and phone calls. Thank you very much for helping me through this very difficult time.
****I didn't end up using their services (explanation below), but the level of service and information I received was easily 100x better than any information I got from the almost 10 other AZ Employment Law attorneys that I reached out to before contacting Jackson White Law. ****I spoke to the Employment Law Dept.'s legal assistant, Nirali. She was incredibly patient, professional, and actively listened to me. She reviewed my inquiry with one of the attorneys to see if they'd be able to take on my case and she called me back the very next day.Since my claim was for such a small amount, she explained that she didn't want to have me end up losing all the money I could get to attorney fees -- or worse, end up owing more money to the attorney than what I could potentially get. She then gave me information regarding how to pursue my claim myself through the Industrial Commission of Arizona.I cannot express how grateful I am for the time and information Nirali gave me. Thank you so much!
They were very professional, and courteous.
Professional and very knowledgeable
Jackson White Law has been more helpful for me and my life than I could have ever anticipated! They are not only extremely professional but, you actually feel that they care about you and want the best for you as their client. If I ever have legal matters I will go to them 100% without hesitation!
Very knowledgeable fast easy to get ahold of and communicate with extremely honest
I know all options available now. Friendly Understanding Caring Staff
Dont know about attorney, but nice staff, was very helpful over phone.1 of 2 that spoke to us or returned call out of 11 we called in the local area. Most attorneys have not bothered to return calls.
Very professional and helpful
 JacksonWhite Law
Let Personal Injury Attorney Jared Everton Guide You With Care
We understand how devastating an injury can be, that's why we work tirelessly to help our clients get the results they deserve. At JacksonWhite, we've helped thousands of people in Arizona secure the settlements and compensation they deserve for their accidents and injuries. When you're ready, we can help you next.
To learn more about our personal injury services, call our office today at (480) 467-4392.
How Our Team Can Help You
When the negligence or harmful actions of others impacts your health and well-being, you may be unsure of what next steps to take next and your attorney can make all the difference. Our skilled personal injury attorney, Jared Everton will provide you with the answers and advice you need to make sure that every aspect of your injury case is handled. For more than 20 years, JacksonWhite has helped hundreds of clients get effective personal injury and accident representation when it mattered most. Our experienced and compassionate personal injury team will work tirelessly for your safety and well-being and see to it that you receive proper compensation for your injuries. To see how we can help with your injury or accident case, call us today at (480) 467-4392.
Meet Personal Injury Attorney Jared Everton
Jared has been successfully advocating for the disabled and injured for over twenty years and has a passion for assisting his clients in obtaining redress for their injuries under the law. Jared also represents individuals seeking social security disability benefits through the appeals process. He has extensive experience and success litigating such matters in various Arizona state and federal courts.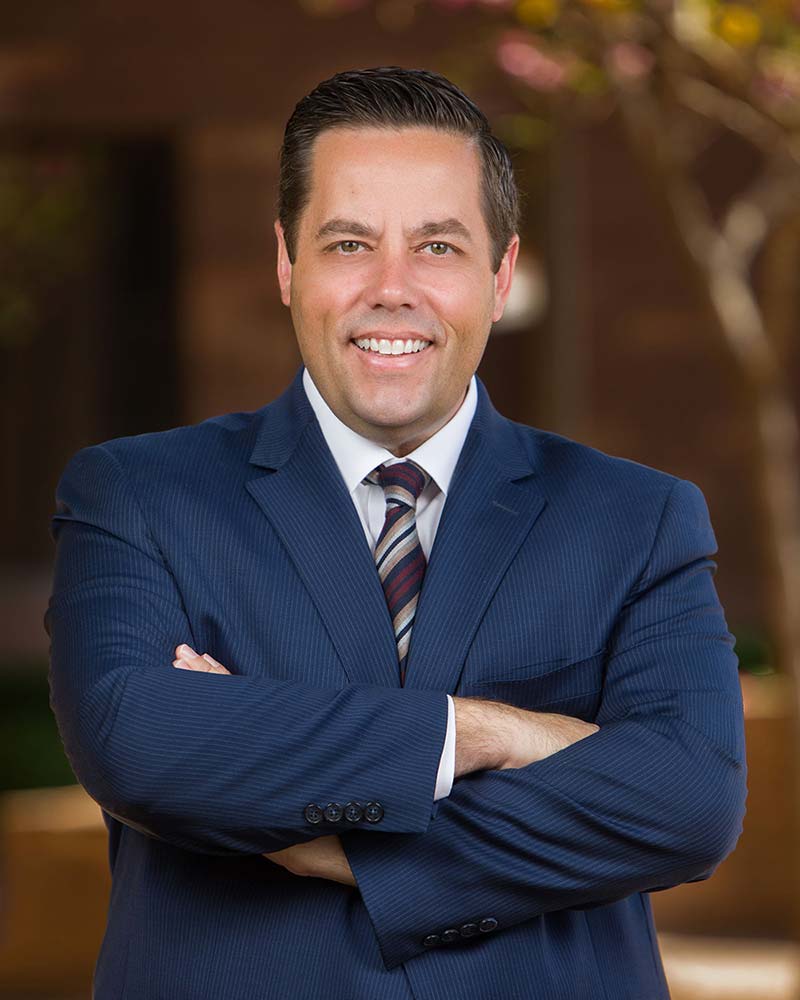 Schedule Your Free Consultation
Fill out the form below to get your consultation and discuss your best legal options.
Get Your Free Consultation