I hired Jackson White in 2015 after my mom needed services to protect her estate. Their name was given to me by a gentlemen who placed seniors in care facilities. I was introduced to Ms. Court and was extremely pleased

talking with her and having the firm represent me for my mom. Through the years I had further conversations with two attorneys, Ryan Hodges and Colton Johnston who was helpful in answering any questions I may have had concerting the trust. I can say the attorneys I have encountered in this probate were extremely caring and helpful and kept me informed every step of the way inasmuch as this was the first time I experienced their expertise. I would recommend the firm the their attorneys for their kindness and expertise. They were always quick to answer my questions and we did this from afar. I live in San Diego and they in Mesa, AZ. The matter is now closed my mom having passed away in March 2021 but I feel very comfortable knowing that I was treated kindly and professionally.

read more
Work with Ryan Hodges on my father estate.I live in Texas and he was able take care of everything without me having to return to Arizona.He made the process easy to understand and was always available when

needed.Would highly recommend him for any legal work.

read more
I was fortunate to come to Mr Hodges at Jackson White Law because it was the law firm used by a friend. I live out of state and was faced with being a trustee of an estate of a deceased friend.I knew nothing about

this type of law, but Mr Hodges guided me throughevery step of the process. He answered questions quickly and responsibly. He made suggestions that were helpful and wise. The estate is now settled and I couldn't be happier with how smoothly the process went with Mr Hodges overseeing it all. I would recommend this firm without any hesitation.

read more
I can say that our experience with Jackson White Law and Ryan Hodges in particular was completely as expected, professional and responsive. Their knowledge of the probate process in Arizona greatly added to our

confidence In getting through the process. I would have no problem recommending their services to anyone who was a need of legal services and i would not hesitate to use them again.

read more
Ryan Hodges was very helpful and returned emails promptly. My initial cold call with Ryan was informative and trustworthy. He gave straight answers. It's the reason I chose him to represent my mother's estate.I had

spoke with another firm, in town, that wasted a long time getting my information, setting up a $75 consult fee that resulted in vague answers that were meant to scare me (slimy) into using their extremely overpriced fee for a simple estate.

read more
Mr. Hodges,Thank you for your expertise to finally put this to rest.It has been a trying time for us as a family that has ledto a dark spot in our lives that may never heal. We all wishto "Thank You" again for

your help. .

read more
Richard Z.
15:29 02 Nov 20
Ryan Hodges was such a huge help to us. When my sister in law passed we didn't know where to even start. We called him and he got on the ball right away. We live out of state so he took care of all the court

processing and filling out all the paperwork for us. When we had questions he would get back right away and always had the answers. He got us through this troubling time with professionalism and we couldn't have gotten through this without him and JacksonWhite Law firm.

read more
chrissy S.
20:24 20 Oct 20
Can't say enough good about Ryan Hodges and his assistance with my dad's missing Trust paperwork. He provided me with an excellent suggestion and details on how to potentially find the attorney who originally drafted

up the Trust. His ideas came through and we now have the Trust in hand and can avoid probate! Thank you Ryan for helping during a challenging time.

read more
We retained Ryan Hodges to do some work for us on my mom's estate. He was so efficient and prompt in everything he did for us. I would highly recommend Ryan and would definitely do business with him again.
Bob and Nancy W.
15:54 15 Oct 20
Welcome to JacksonWhite Probate Law
Helping families after the loss of a loved one.
Our probate team, led by attorney Ryan Hodges, can help you protect your assets and counsel you as to the best way to handle the transfer of assets after a loved one's passing. You've got probate questions, call us today at (480) 467-4365 for answers.
How Our Team Can Help You
Hiring an attorney that is dedicated to your case and committed to guiding you though this process will be invaluable. At an already trying time, it is difficult to find the energy to deal with the legal ramifications and processes on your own. An attorney can help alleviate some of the added stress and burden of dealing with the probate of an estate, and ensure the assets are properly distributed.
Call with Your Probate Questions
If you or a loved one are facing probate, or have questions about how your estate would be dealt with in the probate process, contact our team today to schedule your no obligation, free phone consultation with an attorney. To see how we can help with your probate case, call us today at (480) 467-4365.
What Our Clients Say
"We had to do probate on my fathers estate. Ryan made it go very smooth and it was great. If I need an attorney in the future, I will be giving them a call! Highly recommended."
Shawn Medina
Mesa, Arizona
"Ryan Hodges of Jackson White Attorneys made a long drive to meet with us as we were grieving the recent loss of our 41-year-old son. He guided us through every step of the probate process."
Robert Bell
Mesa, Arizona
"Ryan Hodges is amazing! My mom is elderly and needed help sorting out the details of probate in AZ. Ryan was able to navigate through the paperwork to help my mom get the estate settled."
Lee Vaughn
Mesa, Arizona
Meet Ryan Hodges
Let us help you protect what matters most.
Ryan is a shareholder at JacksonWhite, with over 10 years of experience in the area of probate law. Ryan is dedicated to the service of each client and is diligent in all of his cases. He has facilitated hundreds of probate matters and compassionately guides each client through these potentially stressful situations. Ryan's understanding of the law, experience in the field and commitment to the services to his clients set him apart as one of the top probate attorneys in Arizona.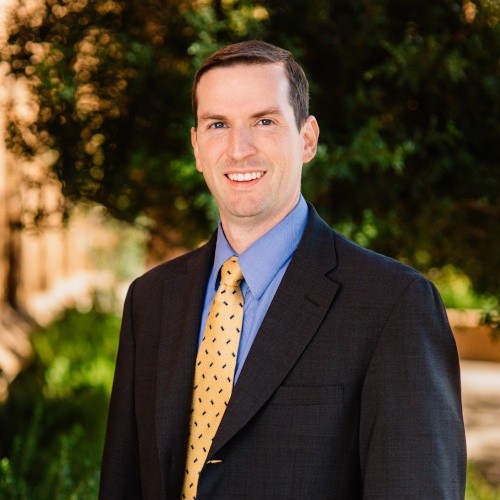 Schedule Your Free Consultation
Fill out the form below to get your consultation and discuss your best legal options.
Call Now Button