Ryan Hodges was a tremendous help in settling my grandmother's estate. He provided us with multiple options and shared information that allowed me to keep costs down. He was very responsive, informative, and made the process seamless. I'll be utilizing Jackson White again.read more
Barbara R.
20:42 05 Aug 20
Ryan Hodges did an excellent job in handling the probate process for my mother's property in Phoenix. Due to the restrictions brought about from Covid-19, this process had to be handled remotely & Ryan made sure everything went smoothly.read more
I suddenly found myself responsible for my brother's complicated estate and reached out to Jackson White. Ryan Hodges is personable and professional and did an extremely efficient job processing a large amount of court documents for a very reasonable fee. Thank you again!read more
After 5 long years since my father in law passed ...I had Mr. Hodges help me with his estate and I can honestly say my attorney did an outstanding job, very efficient very professional and compassionate I will definitely without a doubt recommended the firm to all my family and friends. Thx you so much and will definitely continue to use the great service provided 😉read more
I engaged Attorney Ryan Hodges of Jackson White in AZ, to assist me in settling my brothers estate. I live in MA and have no knowledge of AZ law. Attorney Hodges did a tremendous job from start to finish. There were no unexpected surprises from start to conclusion. He explained everything in great, easy to understand detail as to what to expect and what I needed to do. His responsiveness to questions were always received the same day. And regarding fees, I felt they were reasonable with no hidden or unexpected fees or expenses. I highly recommend Attorney Hodges for handling your estate needs.read more
My lawyer, Ryan Hodges is the best!!!! He helped me through an emotional time and handling my uncle's estate. He is very understanding, committed and he did not treat me like a"just a client.... he treated me with respect and understanding of what I was going through. He always responded to any questions or concerns I had. He was clear in any of explanation of what I needed to do and guided me all the way to the very end. I know my uncle would have liked him and would be proud that I had hired him on to help me take care of his estate. I would recommend mr. Hodges to Everybody!!!!read more
Theresa O.
23:24 24 Jun 20
No better way to get you through the complexities of working through a trust! Ryan Hodges, Colton Johnston and staff were awesome, made sure every detail was covered through completion! I highly recommend them!
Ryan Hodges was the attorney I turned to when my father passed away last Labor Day. He was professional, courteous and compassionate during a very difficult time. Helped me thru the estate process in detail and always responded to my numerous inquiries with complete information and great attitude. I would HIGHLY recommend his services.read more
I connected with Ryan Hodges through a google search - I required help transferring property. I'm very happy I did - he made the entire process smooth and easy. He expertly answered my questions, provided solid advice, and kept me informed through each step. I'd highly recommend him/JacksonWhite.read more
Jackson White have always been very professional and helpful. Ryan Hodges, Probate Attorney, answered all my questions and more. I would recommend Jackson White for any and all of your legal needs and Ryan for all your probate needs . They are 5 out of 5 in my book!read more
I worked with Ryan Hodges of JacksonWhite Law to assist me and my family in dealing with the estate of my deceased brother. All my questions were answered promptly and courteously. It was very easy to schedule time with him by phone. Let's face it: you don't anticipate being the executor of an estate, and you certainly don't train for it to get ready to deal with the unexpected. Hiring Mr. Hodges immediately took much of the burden off my shoulders. I highly recommend him if you become the executor of an estate.read more
Welcome to JacksonWhite Probate Law
Helping families after the loss of a loved one.
Our probate team, led by attorney Ryan Hodges, can help you protect your assets and counsel you as to the best way to handle the transfer of assets after a loved one's passing. You've got probate questions, call us today at (480) 467-4365 for answers.
How Our Team Can Help You
Hiring an attorney that is dedicated to your case and committed to guiding you though this process will be invaluable. At an already trying time, it is difficult to find the energy to deal with the legal ramifications and processes on your own. An attorney can help alleviate some of the added stress and burden of dealing with the probate of an estate, and ensure the assets are properly distributed.
Call with Your Probate Questions
If you or a loved one are facing probate, or have questions about how your estate would be dealt with in the probate process, contact our team today to schedule your no obligation, free phone consultation with an attorney. To see how we can help with your injury or accident case, call us today at (480) 467-4365.
What Our Clients Say
"We had to do probate on my fathers estate. Ryan made it go very smooth and it was great. If I need an attorney in the future, I will be giving them a call! Highly recommended."
Shawn Medina
Mesa, Arizona
"Ryan Hodges of Jackson White Attorneys made a long drive to meet with us as we were grieving the recent loss of our 41-year-old son. He guided us through every step of the probate process."
Robert Bell
Mesa, Arizona
"Ryan Hodges is amazing! My mom is elderly and needed help sorting out the details of probate in AZ. Ryan was able to navigate through the paperwork to help my mom get the estate settled."
Lee Vaughn
Mesa, Arizona
Meet Ryan Hodges
Let us help you protect what matters most.
Ryan is a shareholder at JacksonWhite, with over 10 years of experience in the area of probate law. Ryan is dedicated to the service of each client and is diligent in all of his cases. He has facilitated hundreds of probate matters and compassionately guides each client through these potentially stressful situations. Ryan's understanding of the law, experience in the field and commitment to the services to his clients set him apart as one of the top probate attorneys in Arizona.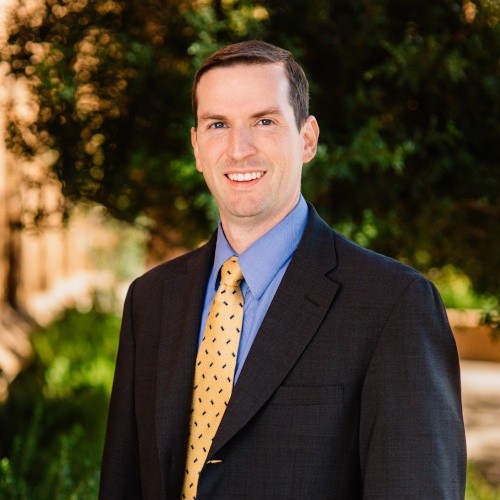 Schedule Your Free Consultation
Fill out the form below to get your consultation and discuss your best legal options.