My husband and I connected with Mr. Hodges, and he was incredibly helpful. My father had passed away in AZ. I live in Maine. I also had no idea what to do or how it was going to get done with such distance. My dad didnt

have a Will. So we really started at ground zero. Ryan was so kind, he virtually held my hand every step of the way. No matter what I threw at him he would nail it with a home run. We would absolutely use this law firm again and again. Please call them! You wont be sorry. Thank you for making a very unpleasant experience as easy as it was for us. We appreciate the work that was done.

read more
Mr. HODGES WAS EXCELLENT. I needed help transferring property, and other assets from my mother who passed away and had no Will in place. I was totally lost on where to begin what to file or even how to file Mr. Hodges

took all my information and filed all the correct paperwork with the court saving me a ton of time, money and run around. I would highly suggest if you have a loved one who passed and you don't what to do with property personal belonging or where to begin give Mr. HODGES a call at Jackson White.

read more
After my dad passed away in Mar 21, I contacted multiple lawyers in the Phoenix area to work through Probate. Ryan Hodges at JacksonWhite quickly became the best choice. Ryan helped us resolve the Probate to closure,

and was on top of the process the entire time. He laid out the plan, kept us (me) on track with timely deliverables, and was very prompt and knowledgeable when I had questions. The Probate completed without issue, and I credit Ryan for that. If you need a Probate lawyer in AZ, talk to Ryan Hodges. Would absolutely recommend him, professional, great service, fair rates.

read more
Jeff and Shirley C.
17:32 20 Dec 21
I contacted Ryan Hodges at Jackson & White to sort out all the complexities of probate after my father's passing. There was much to be done, and Ryan handled everything professionally and thoroughly, walking me and my

family through the entire process. I would recommend Ryan & Jackson & White in dealing with any family estate matters: they know their stuff. Thanks, Ryan.

read more
Michael D.
18:49 17 Dec 21
Ryan Hodges of Jackson White did an outstanding job of helping me navigate the probate process when my father died. He always returned my phone calls and emails immediately. Ryan balanced the process and saved me

fees by letting me complete the tasks he knew I could do. I've referred him to many of my neighbors and friends if they want estate legal work.

read more
theTelemarkDaydream
18:26 16 Dec 21
The first time I spoke with Ryan Hodges (atty at Jackson-White) I was treated with respect, patience, and understanding.Ultimately it was that personal service that made me choose this firm, and I was not

disappointed.Over the next six months, Ryan would continue to provide outstanding professionalism, guidance, and extreme clarity about what to expect with the estate of my father.And, I would absolutely recommend Jackson-White based on my own experience with Ryan Hodges!!

read more
My Dad died January 2021 in Arizona and I, as executor living in Oregon, needed to settle his estate but had no knowledge of what to do. His trust officer said I would need an Arizona law firm and suggested Ryan

Hodges of JacksonWhite along with several other firms. A message left on their website was answered by a phone call next day from Ryan. He emailed a "to do list" of the steps necessary and information I needed to provide. Dad's estate was straight forward and there were no squabbles with my brother and sister as I distributed his financial assets. When necessary Ryan communicated directly with the trust officer. By July, after several more "to do lists" all was settled and within the basic fee originally quoted. After the initial phone call all communications were by email with clear, logical, step by step instructions and prompt replies. I am very pleased with the services of Mr. Hodges and recommend him.John Womack

read more
Ryan Hodges was extremely helpful and friendly from start to end of the probate process. He provided contact for a realtor to help me sell my fathers home and closely advised me in working with a CPA, all while I

reside in CA when the law firm is based in AZ. Even though the pandemic slowed the process Ryan kept in close contact and was readily available any time I had questions or concerns. I highly recommend Ryan Hodges and the entire Jackson & White law firm.

read more
I dealt with Ryan Hodges in the probate department. I have never had to deal with Wills or probate accounts before. Therefore, I had a lot of questions and was confused with what to do. And Ryan made the process run

smoothly. He was a pleasure to deal with, responded right away and answered all of my questions & concerns that I had. I will be calling them to set up my own Will. I would recommend using Jackson White.

read more
Welcome to JacksonWhite Probate Law
Helping families after the loss of a loved one.
Our probate team, led by attorney Ryan Hodges, can help you protect your assets and counsel you as to the best way to handle the transfer of assets after a loved one's passing. You've got probate questions, call us today at (480) 467-4365 for answers.
How Our Team Can Help You
Hiring an attorney that is dedicated to your case and committed to guiding you though this process will be invaluable. At an already trying time, it is difficult to find the energy to deal with the legal ramifications and processes on your own. An attorney can help alleviate some of the added stress and burden of dealing with the probate of an estate, and ensure the assets are properly distributed.
Call with Your Probate Questions
If you or a loved one are facing probate, or have questions about how your estate would be dealt with in the probate process, contact our team today to schedule your no obligation, free phone consultation with an attorney. To see how we can help with your probate case, call us today at (480) 467-4365.
What Our Clients Say
"We had to do probate on my fathers estate. Ryan made it go very smooth and it was great. If I need an attorney in the future, I will be giving them a call! Highly recommended."
Shawn Medina
Mesa, Arizona
"Ryan Hodges of Jackson White Attorneys made a long drive to meet with us as we were grieving the recent loss of our 41-year-old son. He guided us through every step of the probate process."
Robert Bell
Mesa, Arizona
"Ryan Hodges is amazing! My mom is elderly and needed help sorting out the details of probate in AZ. Ryan was able to navigate through the paperwork to help my mom get the estate settled."
Lee Vaughn
Mesa, Arizona
Meet Ryan Hodges
Let us help you protect what matters most.
Ryan is a shareholder at JacksonWhite, with over 10 years of experience in the area of probate law. Ryan is dedicated to the service of each client and is diligent in all of his cases. He has facilitated hundreds of probate matters and compassionately guides each client through these potentially stressful situations. Ryan's understanding of the law, experience in the field and commitment to the services to his clients set him apart as one of the top probate attorneys in Arizona.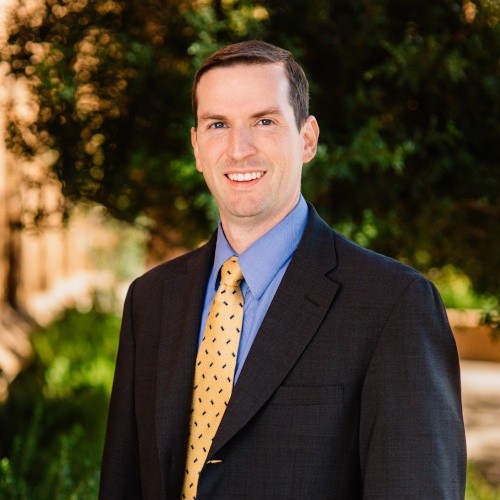 Schedule Your Free Consultation
Fill out the form below to get your consultation and discuss your best legal options.