After researching several referrals for attorneys to help with my mother's estate, I chose Ryan Hodges at Jackson White Law. Ryan made the process simple and straightforward. Appointments were easy to schedule and he

answered all my questions and concerns, including on how the estate would be handled from out of state. All correspondences from Ryan were clear and concise. With Ryan's help the estate was settled. I appreciate and am thankful for Ryan's expertise and guidance.

read more
I lost my mom last year. I decided I needed help with probating her will. While I checked with Google on what I needed to do I discovered Ryan Hodges' information. I gave his office a call & we began the process of

filing probate.Ryan sent me step by step instructions, itemized list, timeline of the process & my to-do list. All paperwork & questions were done by email. Ryan filed all paperwork with the court. Everything was completed in 4 months.I appreciate how easy Ryan made this process for me & my family. I will definitely recommend & use Ryan & his associates for any family type planning in the future.Thank you very much,Kathi Casey

read more
I initially reached out to Ryan Hodges at JacksonWhite Law for a consultation due to an unexpected and frustrating estate problem after my father passed. I contacted several attorneys and ultimately selected Mr. Hodges

due to the positive reviews people had posted regarding their experience with him, his professionalism, and his apparent understanding of the situation I was facing. Mr. Hodges has successfully helped my family navigate the long and complex probate process and was always available to answer any questions I had along the way, saving me a great deal of stress and helping put my mind at ease throughout this entire process. I would wholeheartedly recommend Ryan Hodges at JacksonWhite Law for any estate or probate issues that you are facing.

read more
I contacted Ryan Hodges to help with my Brothers Estate. He helped me through the full process and made it easy. I highly recommend Ryan. I was always able to reach him by phone or email. Very professional and easy to

work with. His flat fee worked for me !

read more
Ryan Hodges was such great help with my probate situation. He made it clear what the process was and what was needed. His communication was very good and had fast responses for any questions I had. Ryan helped out a

lot. Would definitely reach out to him in the future if needed.Thanks!

read more
Anthony R.
23:25 11 May 22
Ryan Hodges was the attorney that assisted me with my mom's estate. From start to finish, Ryan directed me thru every step of the process and advised me of the progress along the way and kept me up to speed as to what

still needed to be done. Any time I had a questions Ryan was quick to respond to my emails, most of the time within the hour. For many, the loss of a loved one is heart wrenching and can be very stressful. Ryan made this process stress free. I knew exactly what I needed to do and when it needed to be done by. If you ever need a probate attorney, I would strongly recommend giving Ryan a call. Thank you, Ryan.

read more
Christopher E.
22:17 03 May 22
I was referred to JacksonWhite Law and worked with Ryan Hodges to help with the resolution of my parent's estate. Ryan worked quickly through the process and communicated thoroughly at every step. He was always

willing to speak with me and offer assistance if I had any questions. I would definitely recommend Ryan and JacksonWhite Law for any legal needs.

read more
Ryan Hodges did an excellent job helping me through the probate process of my late father's will. I was concerned that living out of state would make things difficult, but Ryan was a godsend. He made the whole probate

process easy and simple. We communicated regularly via email as he walked me through the proceedure step by step, explaining the purpose of each and every document he sent. When I had questions, he would respond in a timely manner with clear and concise answers. With his help and guidance, the estate was settled and all concerned parties were satisfied with the outcome. His patience and understanding, turned what seemed to be a difficult and unpleasant undertaking, into an easy and simple task. I would highly recommend Ryan Hodges to anyone that is in need of legal assistance with probate matters.

read more
When my husbands mother passed away, we were unsure of how to proceed with her estate. A friend recommended Ryan Hodges to us. He was very professional and helped us through every step of the process. We highly

recommend Ryan Hodges.

read more
Ryan Hodges was referred to us by the attorney handling our deceased parents trust. Our parents had property in Havasu that was not listed in the trust so we were anticipating a lenghthy probate process. Ryan was

very responsive, professional, and efficient. He gathered the details and paperwork that wecould find which, unfotunately, was not very helpful. Ryan drew up and provided to all the heirs the documents we needed with detailed, specific but concise instructions. He identified a path without full probate for us and within just a few weeks the properties were transferred to the heirs.....painlessly. I would highly recommend Ryan to anyone needing his services.

read more
I would highly recommend Ryan Hodges of Jackson White Law firm who is the attorney who has helped me through 2 separate probate cases. There were so many questions that I had when taking care of my aunt's estate that I

finally called Ryan (he was referred to me by a friend). He coached me through the process and explained everything in a way that I could easily understand and was very patient and calming throughout the process. I had gotten pretty overwhelmed and stressed over all the paperwork that was required but once Ryan took over it was such a relief! So, this year, when I chose to handle my mother's estate, I had already made up my mind to use Ryan's services to make it easy and to make sure everything was done correctly. He was very professional in his dealings with family members and took the time to answer their questions and explain the process to them. At all times, I was aware of what was transpiring and what the next step would be. If I had any questions or concerns, all it took was a phone call or email and he responded right away with answers. My goal was to go through probate with as little stress as possible and with Ryan's help and expertise......MISSION ACCOMPLISHED!!

read more
Maureen B.
00:09 29 Mar 22
Welcome to JacksonWhite Probate Law
Helping families after the loss of a loved one.
Our probate team, led by attorney Ryan Hodges, can help you protect your assets and counsel you as to the best way to handle the transfer of assets after a loved one's passing. You've got probate questions, call us today at (480) 467-4365 for answers.
How Our Team Can Help You
Hiring an attorney that is dedicated to your case and committed to guiding you though this process will be invaluable. At an already trying time, it is difficult to find the energy to deal with the legal ramifications and processes on your own. An attorney can help alleviate some of the added stress and burden of dealing with the probate of an estate, and ensure the assets are properly distributed.
Call with Your Probate Questions
If you or a loved one are facing probate, or have questions about how your estate would be dealt with in the probate process, contact our team today to schedule your no obligation, free phone consultation with an attorney. To see how we can help with your probate case, call us today at (480) 467-4365.
What Our Clients Say
"We had to do probate on my fathers estate. Ryan made it go very smooth and it was great. If I need an attorney in the future, I will be giving them a call! Highly recommended."
Shawn Medina
Mesa, Arizona
"Ryan Hodges of Jackson White Attorneys made a long drive to meet with us as we were grieving the recent loss of our 41-year-old son. He guided us through every step of the probate process."
Robert Bell
Mesa, Arizona
"Ryan Hodges is amazing! My mom is elderly and needed help sorting out the details of probate in AZ. Ryan was able to navigate through the paperwork to help my mom get the estate settled."
Lee Vaughn
Mesa, Arizona
Meet Ryan Hodges
Let us help you protect what matters most.
Ryan is a shareholder at JacksonWhite, with over 10 years of experience in the area of probate law. Ryan is dedicated to the service of each client and is diligent in all of his cases. He has facilitated hundreds of probate matters and compassionately guides each client through these potentially stressful situations. Ryan's understanding of the law, experience in the field and commitment to the services to his clients set him apart as one of the top probate attorneys in Arizona.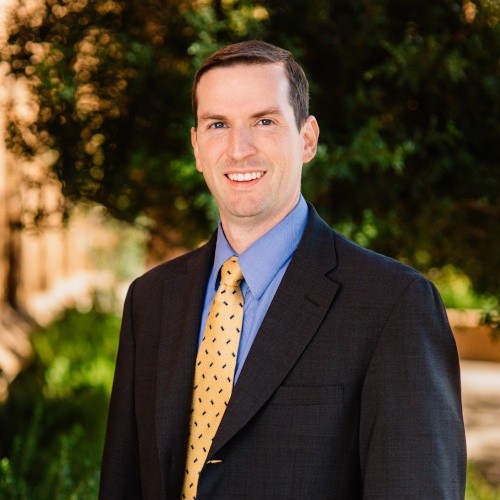 Schedule Your Free Consultation
Fill out the form below to get your consultation and discuss your best legal options.