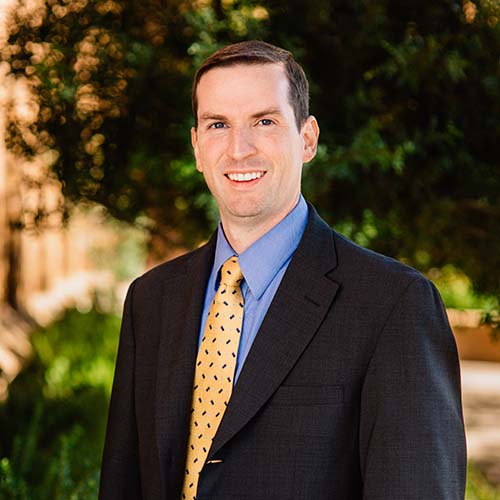 Ryan K. Hodges
Probate Attorney
Ryan Hodges is a Shareholder at JacksonWhite and focuses his practice in the areas of probate, estate and trust administration, and elder law, including long-term care planning and special needs trusts.
Brianna Burrows
Paralegal
Brianna joined JacksonWhite in 2019. She dedicates her time with our attorneys who practice in the probate court. Brianna comes to JacksonWhite after several years serving as a Court Clerk for the Pinal County Superior Court. She has extensive experience in guardianship, conservatorship, and probate matters. Brianna serves as the probate team's paralegal in focused case and statutory research, petition and motion draft practice, and careful management of the various deadlines involved in serving as a fiduciary for a loved one with dementia or for a family member's estate. Brianna's experience with the court system makes her an invaluable resource to any family seeking help with the death or incapacity of a loved one
Billie Meagher
Legal Assitant
Billie joined Jackson White in 2016 as a member of the Civil Litigation team. In 2017, Billie dedicated herself as a legal assistant for JacksonWhite's Guardianship, Conservatorship, and Probate team. Billie oversees all external court and client processes. This includes filing all documentation with courts in nearly every county in Arizona; correspondence with clients, opposing counsel, and parties; and oversight of notice processes necessary in any probate litigation. Billie likewise comes to JacksonWhite from experience working with hospital administration giving her extensive experience in reviewing and analyzing medical records. Billie's experience makes her an asset to families dealing with the struggles of incapacity  and death.
Cassidy Miller
Intake Specialist
Cassidy joined the probate and guardianship teams at JacksonWhite in 2020. She quickly became the lead intake supervisor for the team as a result of her tenacity, diligence, and compassion in helping families as they navigate the process of hiring an attorney to help them through the difficulties of losing a loved one to death or incapacity. Cassidy guides new clients through the process of hiring legal counsel, drafts all necessary initial documentation for a guardian or conservator or personal representative to serve in a fiduciary role, and dedicates countless hours to communicating with medical providers to obtain necessary medical reports for the court process.