Social Security Disability
Looking To Obtain Social Security Disability Benefits in Arizona?
If you're in need of Social Security Disability (SSD) benefits, the Attorneys at JacksonWhite can help to see if you're eligible in the state of Arizona and what you need to do to improve your chances of being approved. Our step-by-step process and experienced Social Security Disability team make it easy to understand SSD benefits and what the approval process will look like.
As of 2023, Arizona sees over 15,000 individuals apply for Social Security Disability benefits annually due to disabilities or illnesses. According to the most recent data from the Social Security Administration, only about 37 percent of these applicants are approved for disability benefits upon their initial application.
This implies that more than 60 percent of applicants are denied, and the likelihood of success is even lower for those who apply without professional assistance. The reasons for denial of SSD benefits may vary, but the reality remains that it can be challenging to achieve success without expert guidance.
Fortunately, there's a way to put the odds of success back in your favor. The process of applying for SSD benefits is complex, but at JacksonWhite Law, we can help simplify your options and provide a clear legal plan of action. In Arizona, applicants who are represented by an attorney are three times more likely to be approved for SSD benefits. With Jared Everton's dedicated and knowledgeable services, you'll have the opportunity to get closer than ever to approval for SSD benefits. Call our office today at (480) 571-3870 to schedule your free consultation.
Understanding Arizona's SSD Benefits
The key to higher approval rates is understanding the process that the SSA uses to determine SSD eligibility. At JacksonWhite Law, we can break down the process step-by-step to give you the most clear, logical understanding of the process ahead.
The determining factors in your eligibility include:
Work history: You must have worked long enough and paid enough Social Security taxes to be eligible for SSD benefits.

Severity of your disability: Your medical condition must be severe enough to interfere with your ability to work and perform daily activities.

Duration of your disability: Your disability must be expected to last for at least one year or result in death.

Ability to perform previous work: You must be unable to perform the work you did before your disability.

Ability to perform other work: You must also be unable to adjust to other types of work due to your disability, considering factors such as your age, education, and work experience.
Your eligibility for SSD benefits will be based on this and other relevant information. To learn more about the qualifications process, call our office today at (480) 571-3870 to schedule your free consultation. We'll review your information, and help you decide if you should pursue a claim.
Arizona's Social Security Disability Process
The Social Security disability benefits application process is rigorous, and the majority of applicants are denied during the first stage of the application process.
Hiring a Social Security disability attorney can help improve your chances of getting approved early on. A disability lawyer will know how the application process works and will be able to help you fill out the paperwork in a way that could increase your chances of being approved.
Getting Approval After Being Denied
Even if your application is denied in the beginning, there are still plenty of chances to get approved. The next stage in the application process is called, "Claim Reconsideration."
It is not uncommon for applicants to be denied following the Claim Reconsideration, and we are well prepared to begin the third step, "ALJ Disability Hearing" following your second denial. This is when an administrative law judge from the Office of Appeals will hear your case.
The Disability Hearing Process
This is your chance to plead your case in person instead of being a name on a piece of paper. Even at this stage, very few applicants win their cases. This is because applicants don't hire a Social Security benefits attorney. By hiring an Arizona SSD lawyer, your chances of winning the case increase greatly.
If the administrative law judge denies your disability claim, your Social Security disability attorney can appeal it to the Appeals Council on your behalf. At this point, the Appeals Council will review the administrative law judge's decision to look for any procedural errors. At this point, your SSD attorney can submit new evidence for consideration.
Worst case scenario, the court upholds the previous decision. At this stage in the process we can appeal the case to the Federal Court and try to get the decision overturned. If the case doesn't get approved at this level, there is the U.S. Supreme Court, but this option is not recommended as the Supreme Court chooses the cases they want to hear.  The recommended path is to start over and submit a new application. Call our office today at (480) 571-3870 to schedule your free consultation and learn how we can help with the application process.
Hours of Operation
Monday – Friday: 8AM – 5PM
Closed Saturday & Sunday
Get the Help You Need with Jared Everton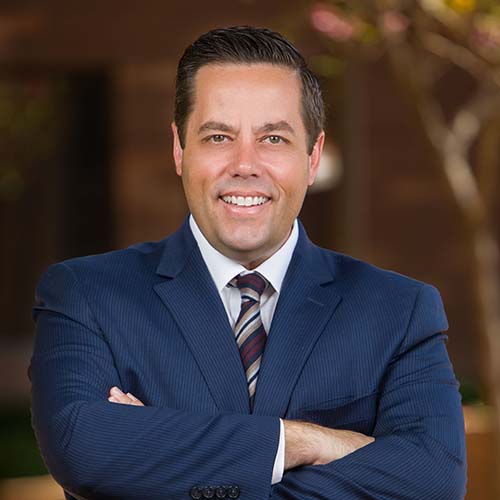 Social Security Disability Attorney Jared Everton's knowledge, expertise and compassionate, dedicated services offer his clients an ideal approach to the SSD benefits process. Jared is a member of the National Organization of Social Security Claimants' Representatives (NOSSCR) and is extremely familiar with all stages of the application process.
At JacksonWhite, we handle SSD cases on a contingency basis, which means that if you don't win your case, you don't pay.
Whether you're applying for benefits for the first time, or have already been denied, we can help you determine your options and the best legal paths available. We'll help you portray your diseases or disabilities to the Social Security Administration accurately and fairly.
How to Apply for SSD Benefits in Arizona
There is a 2-step process to applying for Social Security disability benefits in Arizona. Firstly, you must review the Adult Disability Checklist provided by the Social Security Administration (SSA). Secondly, you must complete the Disability Benefit Application also provided by the SSA.
To speed up the application process, it's recommended that you have information readily available related to your work history, medical condition, and employment history. These factors will be considered during the SSA's review of your application and in determining your eligibility for benefits.
Once you have submitted your application, the SSA will confirm receipt and initiate the review process. After processing your application, they will send a final decision to you by mail. It's important to note that the process can take some time, but you can check the status of your SSD application if you haven't received a decision yet.
Should You Apply on Your Own or With a Lawyer?
While there are two ways to approach the application process for Social Security Disability (SSD) benefits, working with an attorney can provide significant benefits. While it's free to apply for SSD benefits on your own, partnering with a Social Security Disability lawyer can provide valuable support and guidance throughout the process.
An experienced attorney can help you better understand the complexities of the application process and help you organize and present your information in a way that maximizes your chances of approval. While it's true that working with an attorney comes at a cost, the potential benefit of a greater chance of approval can be well worth the expense of hiring legal help.
If you're considering applying for SSD benefits in Arizona, don't hesitate to reach out to us at (480) 571-3870 to schedule your free consultation. Let JacksonWhite provide you with the assistance and guidance you need to successfully navigate the application process.
Statistics show that applicants represented by an attorney are three times more likely to receive benefits than those who apply on their own.
The reasons for SSD benefits application denials are varied, but applicants who choose to apply on their own often struggle with understanding the complex intricacies of the process and may not present their information in a way that fully highlights their disability. In contrast, an experienced SSD attorney has completed numerous benefits applications and understands exactly what needs to be presented to give the applicant the best chance of success.
Ultimately, whether to apply for SSD benefits on your own or with an attorney is a personal decision based on your goals. If you're willing to take your chances and risk a lower approval rate, applying on your own may be the best option. However, if your goal is to maximize your chances of approval, working with a Social Security disability attorney may be the ideal choice.
A skilled attorney can simplify the application process and provide comprehensive support from start to finish, increasing your chances of success and ensuring that your needs are fully taken care of throughout the process.
Call our office today at (480) 571-3870 to schedule your free consultation. We'll review your information, explain the SSD qualification process more in-depth, and help you decide if you should pursue a claim.
Frequently Asked SSD Questions
Other Legal Practices in Mesa, Arizona
Our team of attorneys works in more than 20 areas of law and our extensive network of referrals means we can help Mesa clients in any legal capacity. To learn more, see our full list of 
Practice Areas
.
Why Choose JacksonWhite Law
Since 1983, we've served clients in Mesa and the Phoenix metro area with a full suite of legal services. Today, we're one of the largest firms in the East Valley and work with clients throughout Arizona facing various personal, business and financial legal matters.
We work closely with a number of community partners in Mesa, including Mesa United Way, Mesa Chamber of Commerce, Downtown Mesa and East Valley Adult Resources. We're also involved in a number of charity projects that help organizations like Feed My Starving Children and Paz de Cristo.
Our team of attorneys and legal staff work diligently to provide responsive, effective legal services to our clients, from individuals and families to large businesses and organizations. You can find additional information about our firm at Better Business Bureau, Google My Business or Martindale.
We're also on Yelp, Facebook, Twitter, YouTube, LinkedIn and Avvo.
Need help deciding which attorney is right for you?
Fill out the form to discuss your case and best legal options.