Getting injured is not only a stressful experience, but an expensive one. You'll have to worry about medical bills in addition to missing work during your recovery time. Without taking action, you may even end up in debt, after all is said and done. Fortunately, if you weren't at fault for your accident, you can get a settlement to help cover the costs of your injury (and more).
Working with Jared Everton, the top personal injury attorney in Peoria, is the best way to improve your odds of securing compensation for this purpose. Jared will advocate for your rights, so you can focus on healing and receive the compensation you deserve.
What does Our Peoria Personal Injury Team Cover?
Our personal injury legal team can help with a variety of cases, including dog attacks, car accidents, premises liability claims, medical malpractice, and wrongful death cases. Let's look closer at each of these areas below:
Car Accidents in Peoria
If you're dealing with the aftermath of a car accident that wasn't your fault, you may be able to receive compensation. Whether you're suffering from broken bones, a back injury, or whiplash, you should work with an experienced Peoria car accident attorney for your case. Our Peoria personal injury team has handled many car accident cases with success. They can help ease your burden by acting as a guide in this difficult time.
You may receive compensation for a car accident to cover repairs, medical bills, loss of wages, permanent injuries, pain and suffering, scars, and more. Many times, coming to an agreement about a fair amount of money is challenging. Working with an attorney will remove a lot of complication and hassle from the equation for you. We can take motorcycle accident cases and commercial truck accidents as well.
Dog Bites in Peoria
Unfortunately, dog bites aren't uncommon in the Peoria area. If you were attacked and injured by another person's dog, you may be dealing with high medical bills in addition to psychological damage. Not to mention that some dog bites lead to an infection that may require hospitalization. This can quickly add up to thousands, considering physical therapy, surgery, and other medical costs.
Thankfully, you can receive compensation to help with your pain and suffering after a dog bite. Working with a personal injury attorney is advisable, as they'll have experience with similar cases. They'll know how to navigate the legal system to reach a favorable outcome in your case.
The first thing you should do following a dog attack is seek medical attention. Then, contact our personal injury team to find out how we can help you.
Premises Liability (or "Slip and Fall") Claims in Peoria
Premises liability claims, also called "slip and fall" cases, are made when you're injured on another person's property and they're at fault. From slipping on a wet floor at a restaurant to being injured at the supermarket, an injury like this can put a serious strain on your wallet. Since land and business owners are responsible for making their premises safe, many injuries are avoided.
When a guest is hurt on someone's property, however, it's usually due to negligence on the part of the owner, manager, or employee. If this happens to you, it's essential that you speak with an attorney, so you can prove that the other party was at fault for your injury. Contact our personal injury attorney, Jared Everton, today. He can help you get a fair settlement amount for your troubles.
Wrongful Death in Peoria
Accidents happen every day in Peoria, but if your loved one's life was cut short because of another person's negligence, you may pursue a wrongful death claim. Arizona law determines liability, who can file a claim, and how much compensation you can receive for such a case. Our personal injury team covers wrongful death claims and can represent families who are dealing with the consequences of a tragic accident.
Wrongful death claims can cover rollover accidents where someone was killed after being ejected from their car, T-bone or intersection accidents, and pedestrian deaths. These cases can also include truck accidents, motorcycle collisions, 18-wheeler incidents, and other driving-related deaths.
If you've lost a loved one, you're already suffering enough. You shouldn't have to worry about money in addition to your emotional troubles. Talk to our personal injury attorney in Peoria today.
Medical Malpractice in Peoria
Medical malpractice refers to someone being harmed due to a medical professional not upholding the standard of care. Common acts that lead to medical malpractice cases in Peoria include misdiagnosing an illness, failure to diagnose, misreading lab results, and prescribing the wrong medication or an incorrect dosage.
Discharging a patient prematurely, failing to let a patient know about known risks, and failing to adhere to proper procedure can also result in medical malpractice claims. You can bring such a claim against any licensed medical professional.
Our personal injury team can help prove that the medical professional in question failed to uphold the standard of care expected of them. This will improve your odds of securing compensation for the injuries that resulted from their negligence.
Other Personal Injury Cases
Along with the example cases we went over above, our legal team can also assist you with the following claims:
Pedestrian Road Accidents
Pedestrian Bicycle Injuries
Construction Site Accidents
Product Liability Accidents
Instances of Negligence
Swimming Pool Injuries
Duty of Care Cases
Burn Accidents
Injuries at Birth
Meet Peoria Personal Injury Attorney Jared Everton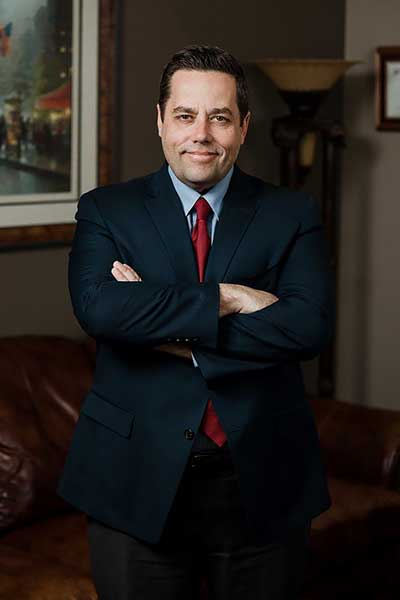 Led by Jared Everton, our legal team has aggressively pursued injury claims for residents in Peoria for over 20 years. As a winner of the prestigious Rising Star award from Super Lawyers, Jared is one of the most qualified personal injury attorneys in the Valley.
Jared is also member of the American Association for Justice and Arizona State Bar Association. Licensed to practice in the United States District Court for the District of Arizona, the United States Court of Appeals for the Ninth Circuit, and the United States Supreme Court, you can trust Jared to fight in court for your personal injury claim.
Get Compensated for Your Injury in Peoria
If you've been injured in a car accident, bitten by a dog, or hurt in another way, our personal injury team will fight to get you the settlement you deserve. Get in touch with attorney Jared Everton today to schedule your free consultation!
Call Personal Injury Attorney Jared Everton at (480) 467-4392 to discuss your case today.