The Gilbert Personal Injury Lawyer You Can Trust
Have you experienced a personal injury incident in Gilbert? Look no further than Personal Injury Attorney Jared Everton at JacksonWhite. He has represented Gilbert residents for over 20 years and fought for the settlement they deserve.
Jared Everton is an AVVO Top 10 award winner due to his years of exceptional work in obtaining compensation for his clients. He is the most qualified attorney to assist with Gilbert resident personal injury claims.
Call us today at (480) 467-4392 or tell us about your case to receive a free consultation.
You Can Depend on On Gilbert's Top Personal Injury Lawyer
Our Gilbert personal injury law team handles all types cases, including:
Car Accidents in Gilbert
You are likely entitled to damages, if you've been involved in an accident and the other driver is at fault. If you have suffered whiplash, a back injury, or broken bones, Jared is the Gilbert personal injury lawyer you can trust to handle your case. We can take care of victims of motorcycle accidents and truck accidents as well.
Dog Bites in Gilbert
1 in 5 dog bites become infected, and serious attacks often require hospitalization. Our personal injury team can absolutely help you get compensated for your pain and suffering following a dog attack.
Premises Liability Claims in Gilbert
Premises liability, which are commonly referred to as  "slip and fall injuries", can be made if you are injured on someone else's property due to their negligence. We most often think of a customer falling on the wet floor of a restaurant, but some of the most common premises liability injuries happen in the workplace.
If you've been injured on someone's property, contact attorney Jared Everton immediately. He is the Gilbert personal injury lawyer you can trust to ensure that you get the maximum settlement from your premises liability case.
Free Personal Injury Consultations in Gilbert
Jared Everton offers free, confidential and no-obligation consultations in the office or over the phone. During your consult, you will go over the specific details of your case and Jared will lay out your options moving forward. Our #1 goal is to get you the maximum settlement to compensate for your injuries.
Call us today at (480) 467-4392 or to schedule your free consultation.
Meet Jared Everton, Gilbert Personal Injury Attorney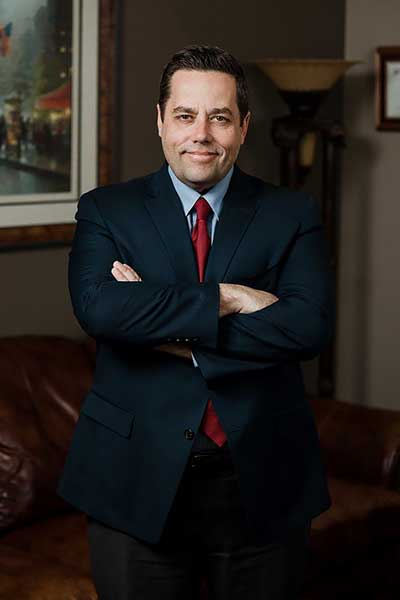 Our personal injury law team in Gilbert is led by Jared Everton, a lawyer with 20 years of experience in Arizona's legal system. Jared is most notably as a two-time winner of the prestigious Rising Star award presented by Super Lawyers.
As a member of the American Association for Justice and Arizona State Bar Association, Jared is licensed to practice in the United States Court of Appeals for the Ninth Circuit, United States District Court for the District of Arizona and the United States Supreme Court too.
Just a Few of Jared Everton's Client Reviews
"Jared Everton and his team worked tirelessly to negotiate with medical providers and insurance company to reach a satisfactory settlement regarding my automobile accident. The end result was much better than I expected. I have also used Jackson White Law for Divorce proceedings and subsequent related issues and have never been disappointed in the results. Everyone I have come across at this firm is extremely professional, knowledgeable, experienced, and competent."
David A, AZ
"Jared and the entire staff of Jackson White were a pleasure to work with! I survived a traumatic, life-threatening experience in 2016. Jared helped me navigate the legal end of the situation, providing reliable and realistic advice and support every step of the way. He was quick to respond to all of my questions with patience and helped turn a difficult situation into a solution I feel good about. I would recommend Jared to anyone needing dependable and honest representation–you will not be disappointed!"
Courtney Roose, AZ
Get the Help You Need From Our Gilbert Personal Injury Law Firm
If you've been injured due to someone else's actions, our personal injury law team is here for you. Get in touch with us today to schedule a free consultation. Don't settle for a less experienced law team, JacksonWhite is ready to get you the compensation you deserve!
Call our Personal Injury team at (480) 467-4392 to discuss your case today.