Queen Creek Personal Injury Attorney with Decades of Experience
Our committed staff at JacksonWhite Law is here to help if you or a loved one has recently been injured in an accident in San Tan Valley, Arizona. Our primary attorney, Jared Everton, has over two decades of expertise and has won the prestigious Super Lawyers Arizona Rising Star distinction for his work in personal injury cases throughout Arizona.
Representing Clients in All Aspects of San Tan Valley's Personal Injury Law
Among the many types of cases we take on are:
Dog Bites

Motorcycle Accidents
Commercial Truck Accidents
Boating Accidents
For a complete list of personal injury cases we handle, please visit our services page.
Representing Clients Involved in Crashes Involving Commercial Vehicles
Because of their size, weight, and reduced maneuverability compared to passenger cars, collisions involving huge commercial trucks frequently result in catastrophic outcomes. Consistent commercial vehicle accidents occur even though truck drivers are subject to strict restrictions. Get in touch with the top commercial truck accident attorney in San Tan Valley if you or a loved one has been hurt in an accident with a commercial vehicle.
Experienced Legal Counsel for Bike Crashes
There are severe concerns for motorcyclists' safety on the road. Wearing safety gear and following traffic laws can lessen the severity of these dangers, but they may not be enough to prevent accidents caused by other drivers. Motorcycle accidents frequently cause serious injuries and high medical bills, which may not be fully covered by insurance. If you've been in a motorbike accident, our skilled lawyer can help you get the greatest possible settlement.
Boating Accidents, Handled Skillfully
Accidents on the water can happen to any boat, big or tiny, in any part of the world. There are 125 boating accidents every year in Arizona, and many people are hurt or their property is damaged. Jared Everton is the best personal injury attorney in San Tan Valley, so you should hire him to represent you.
Personal Injury Consultations Are Available to Residents of San Tan Valley at No Cost and in Complete Privacy
Consultations at our Mesa office or over the phone are free of charge and come with no strings attached. During the consultation, we'll go over the details of your case, outline the options available to you, and set reasonable goals for what we hope will be a successful end. Our top priority is getting you the maximum compensation for your injuries.
Find out More About Jared Everton, a Highly Regarded San Tan Valley Personal Injury Lawyer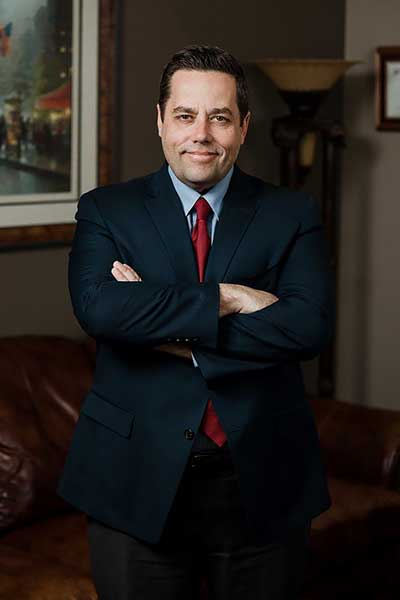 Attorney Jared Everton, a 20-year veteran of Arizona's legal system, is the leader of our San Tan Valley personal injury team. Jared is a highly awarded lawyer, including his accolades as a two-time winner of the prestigious Rising Star award from Super Lawyers.
A member of the American Association for Justice and Arizona State Bar Association, Jared is licensed to practice in the United States District Court for the District of Arizona, the United States Court of Appeals for the Ninth Circuit, and the United States Supreme Court as well.
Jared Everton's Client Testimonials
"Jared handled a vehicular accident liability case for us a year ago and exceeded our expectations at every stage. He was very attentive and empathetic in the initial interview regarding the crash, which resulted in serious injury to our grandson by an impaired driver. Even though the driver at fault had zero assets Jared was able to obtain a significant insurance settlement for our grandson, who will use it to further his education. We did not hesitate to go to JacksonWhite because of their sterling reputation, and Jared's performance certainly confirmed it was the right decision."
Bob Schuster, AZ
"I had great service from Attorney Jared Everton who helped me with my auto accident. Amazing staff and super helpful."
Chase Martin, AZ
The Best Choice for a Personal Injury Lawyer in the San Tan Valley
Jared Everton is well-respected in the San Tan Valley legal community for his expertise and dependability in personal injury practice. Since he approaches his profession with empathy and authority, he has quickly become the go-to attorney in his field.
Call our San Tan Valley Personal Injury team at (480) 467-4392 to discuss your case today.