You Can Rely on the Top Truck Accident Lawyer in Scottsdale
With over 16,000 accidents occurring across the United States each day, it is safe to say that most drivers will either see or be involved in a car accident at least once in their life. For most drivers who get in an accident it is not too severe and they are able to walk away with minimal personal injuries all the while the brunt of the damage happens to their car. Sadly, this is not the case for drivers who are involved in an accident with a commercial truck.
Commercial semi-trucks are on average 20-30 times heavier than a regular car, and this extreme weight difference means that when they slam into another car, they will inflict much more damage than a regular car is meant to withstand and this causes serious injuries for drivers and passengers.  If you have been injured in an accident with a semi-truck, Scottsdale's specialized personal injury attorney Jared Everton and his team are here to help you.
Truck Accident Injury Representation in Scottsdale
Jared Everton is a personal injury lawyer, and meaning he only represents the injured victims in all types of vehicle accidents — not the driver who is at-fault and liable. Jared and his team specifically represent the victims of truck accidents as these victims are often overlooked and underpaid by trucking companies and their insurance which results in the victims being responsible for large portions of the medical bills and costs stemming from the accident.
If you have been injured in a truck accident, call Scottsdale truck accident attorney Jared Everton and his team to set up your free, no hassle consultation.
How Can Scottsdale's Top Truck Accident Attorney Help You?
With the added weight and size, commercial truck accidents often result in more serious injuries and death of drivers and passengers in the car they hit and the victims undoubtedly will have their lives changed forever. When left to deal with large trucking companies and their insurance alone, victims often will not receive the necessary funds to pay for the bills and costs associated with their accident.
This means that even though they are the victim, they will be responsible for paying large portions of bills and costs that the trucking and insurance companies' offers will not cover; this is not fair and this is when an experienced attorney is needed.
For over 20 years, Jared and his team have successfully been assisting the victims of truck accidents to obtain great settlements which truly benefit them and allow for them to be financially taken care of as well as successfully recover. If you have been injured in a truck accident and do not want to be personally responsible for excessive medical bills and car repairs, allow Jared to help.
Meet Jared Everton, Scottsdale's Leading Truck Accident Attorney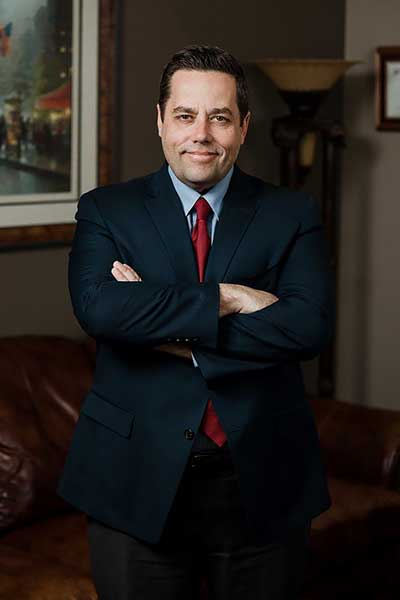 JacksonWhite's personal injury team is led by veteran personal injury attorney Jared Everton who is licensed to practice in the State of Arizona, in front of the United States Ninth Circuit of Appeals as well as the United States Supreme Court. Jared has dedicated the last 20 years serving the victims of accidents and has been assisting them in obtaining the best settlements possible.
As a member of the Arizona Bar Association and the American Association for Justice, Jared has diligently protected his clients and has deservingly been awarded as a Super Lawyers Rising Star. Jared is Scottsdale's leading personal injury attorney for you.
Just a Few of Our Clients' Reviews
"Jared Everton and his team worked tirelessly to negotiate with medical providers and insurance company to reach a satisfactory settlement regarding my automobile accident. The end result was much better than I expected. I have also used Jackson White Law for Divorce proceedings and subsequent related issues and have never been disappointed in the results. Everyone I have come across at this firm is extremely professional, knowledgeable, experienced, and competent."
David A, AZ
"Jared and the entire staff of Jackson White were a pleasure to work with! I survived a traumatic, life-threatening experience in 2016. Jared helped me navigate the legal end of the situation, providing reliable and realistic advice and support every step of the way. He was quick to respond to all of my questions with patience and helped turn a difficult situation into a solution I feel good about. I would recommend Jared to anyone needing dependable and honest representation–you will not be disappointed!"
Courtney Roose, AZ
Our Scottsdale Office
We are located on Scottsdale Road, a quarter-mile south of McDonald Drive in the Lux Offices at Scottsdale Place.
If you aren't located near our Scottsdale office or otherwise cannot make it to an in-person meeting, Jared also offers free consultations over the phone.
Address: 5635 N. Scottsdale Rd Suite 170, Scottsdale AZ 85250
Phone number: (480) 571-9626
Scottsdale's Top Truck Accident Injury Law Firm
If you have been injured in a truck accident, Scottsdale's experienced personal injury law team is here to assist you with obtaining the compensation that you not only need, but deserve. We can handle all types of car accident cases, including motorcycle accidents. Contact us today to set up your free, no obligation consultation.
Call Personal Injury Attorney Jared Everton at (480) 467-4392 to discuss your case today.