Introduction
If you have been injured in a car accident, Peoria's foremost personal injury attorney Jared Everton and his team are here to assist you with your case. Jared and his team have amassed over 20 years of experience fighting to protect the victims of car accidents and ensure that victims receive every dollar that they rightfully deserve.
Types of Cases We Take On
Jared and his team specialize in personal injury accidents, and this means that we only take on cases where you were the victim and you were not the at-fault driver. There are many types of accidents that occur on Arizona roads each day and each type of accident has different results and consequences. Thankfully, Jared's decades of experience have allowed him to have represented victims of many types of accidents and each one has prepared him for your specific case.
Jared and his team have experience with cases similar to the following:
Front End Collisions
Rear-End Collisions
Red Light Accidents
Victims of Drunk Driving
If you believe that Jared and his team can assist you with your case, call us to set up a free consultation.
Should You Hire an Attorney?
Insurance on its own may cover the costs involved with fixing your car or motorcycle, but the insurance payouts often do not cover your medical bills, your personal damages and any wages that you lost due to any time you have to take off of work. Insurance companies look to minimize the amount that they will pay you, and far too often the amount they offer barely covers a small portion of the total money that you deserve and need. This is why having Peoria's premier personal injury attorney on your case is extremely beneficial.
Jared and his team have years of experience negotiating with insurance companies, and this experience is for your benefit. With Jared and his team on your case, you can be sure that you will not receive the bare minimum from an insurance company, rather you will get the settlement that you deserve.
Meet Jared Everton, Peoria's Top Personal Injury Attorney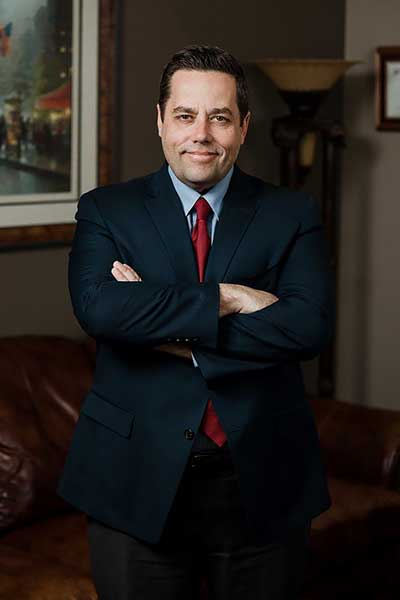 JacksonWhite's personal injury team is led by Jared Everton and his over 20 years of experience representing victims. Jared is licensed to practice in the State of Arizona, in front of the United States Ninth Circuit of Appeals as well as the United States Supreme Court.
As a member of the Arizona Bar Association and the American Association for Justice, Jared has continuously protected his clients and has deservingly been awarded the Super Lawyers Rising Star. Jared is Peoria's top personal injury attorney for you.
Peoria's Leading Car Accident Injury Law Firm
If you have been injured in a car accident, the leading Peoria personal injury law team is here to assist you with obtaining the compensation that you not only deserve, but need. Contact us today to set up your free, no obligation consultation.
Call Personal Injury Attorney Jared Everton at (480) 467-4392 to discuss your case today.