All too often, individuals die before making a will and estate plan. Even if you don't have children, a large estate, or a spouse, it is important to have a will that designates what happens to your property after your death. Most people understand that they need a will, but never take the time to create one, leaving the courts to decide who gets what when someone dies.
What are the consequences for those individuals?
Need to speak with an Estate Planning attorney?
Get in touch with us today! Contact Us Now
I wish I could give 10 stars! From the moment I called Jackson White's ALTCS team, I felt like everything was going to be taken care of. They were the calm in my storm, the island in the ocean. I hope they know the

difference they made in at least one life. And, after all, that's the best thing we can do.

read more
Jackson White provided excellent legal advice and representation. They were my first pick, and I'm glad I gave them the opportunity to support my and my business. I highly recommend this firm.
Very helpful went above our expectations Would recommend to friends and familyWould have had a real problem with this case but they got a better deal then we ever thoughtWas possible Margaret Pfannenstiel
Inestate Succession in Arizona
When someone dies without a will or some other legal method to transfer property when one dies, state law will determine what happens to his or her property. In Arizona, this is called "intestate succession."
Intestate succession laws affect only assets that would have passed through your will. Usually, that includes assets that you own alone, in your name.
Generally, these assets will go to the spouse or children, or if there is neither, a close relative. If no relatives can be found to inherit the property, it will go to the state. Also, if no will has been created, a court will decide who will care for young children and their property if the other parent is unavailable or unfit to do so.
Typically, property distribution (without a will) depends on whether one is married or single, and whether you or your spouse has any children.
Nolo provides a visual on scenarios of who would inherit what if no will was in place. See below: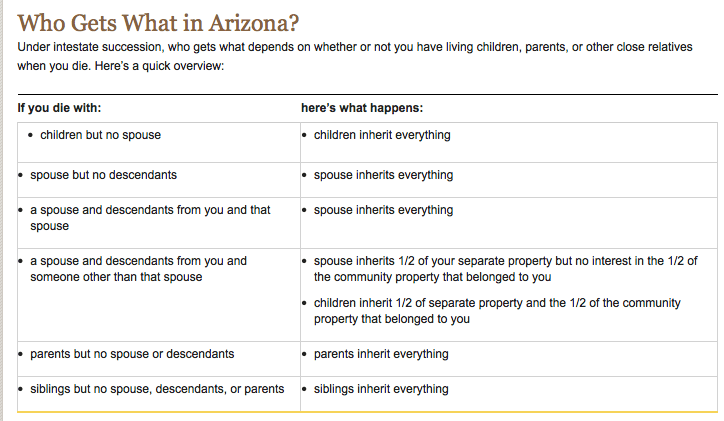 Create a Simple Will in Arizona
If your estate, property or needs aren't complex, you can create a simple will that can cover the basics of what happens when you die. This is an easier, more affordable solution that allows you to quickly and easily outline your preferences after you pass.
Call Arizona Estate Attorney Dave Weed at (480)467-4325 to discuss your case today.
Schedule Your Consultation
Fill out the form below to get your consultation and discuss your best legal options.