Trusted Eminent Domain Lawyers in Mesa
Condemnation and eminent domain law enable government entities to obtain private property upon the payment of "just compensation" to the rightful property owner. Government entities must comply with strict requirements prior to condemning private property and the property can only be taken for public purposes.
At JacksonWhite, our experienced Mesa eminent domain attorneys ensure that property owners receive the compensation that they are legally entitled to after a government entity seizes their property through condemnation.
Eminent Domain Law Services in Mesa
Under Arizona's laws of eminent domain, certain government entities have the right to condemn private property in exchange for fair compensation paid to the property owner.
There are a variety of reasons why a government entity may fight for condemnation, such as in the case of plans to expand roads or utilities for the common good. Due to the legal precedent, it can be challenging for property owners to fight condemnation.
With the help of a knowledgeable Mesa eminent domain attorney, property owners can calculate an appropriate counteroffer. The team of eminent domain attorneys at JacksonWhite can help property owners pursue additional government compensation.
Inverse Condemnation Law Services in Mesa
Arizona eminent domain law requires government entities to declare a taking when acquiring private property without the property owner's consent. In return, the property owner has the right to pursue additional compensation.
When a government entity interferes with property rights without adhering to a lawful constitutional framework, the property owner may have the right to inverse condemnation.
In an inverse condemnation, a property owner sues the government entity for taking their private property without providing just compensation. During this type of action, a Mesa eminent domain attorney can help protect the rights of Arizona property owners.
Property Tax Appeals in Mesa
In Arizona, property taxes are based on two main factors: valuation and classification. The county assessor is responsible for determining these factors for every property in the county.
If a property owner believes that their property has been improperly valued, they have the right to appeal directly to the county assessor's office. Having an attorney during this process is crucial to ensure satisfactory results.
Land Use Litigation in Mesa
Land use law in Arizona deals with a variety of complex issues, ranging from the interpretation of regulations to rezoning disputes. A favorable outcome is highly dependent on a person's ability to obtain an experienced land use attorney.
Before going forward with any real estate transaction, prospective investors or purchasers should consult with a legal professional. An attorney can help navigate complex zoning regulations and assist with important transactions.
Even with due diligence, property owners may run into obstacles when attempting to put their property to good use. Trust the Mesa land use litigation attorneys at JacksonWhite to help developers obtain the approval they need to move forward with their plans.
Land Valuation Law Services in Mesa
Valuation is an important component of condemnation law. In Arizona, property owners experiencing condemnation are compensated based on the real estate's fair market value, as well as the diminution of the property's value.
Property owners should always consult with a Mesa valuation attorney prior to accepting any government appraisals to ensure that their rights are protected and that they are fairly compensated.
Eminent Domain Counter Offers in Mesa
Facing eminent domain and have been offered payment for a property? It is important to closely evaluate all proposals before accepting. A reputable Mesa eminent domain attorney can help property owners obtain greater compensation by filing a claim against the government entity.
Meet Our Mesa Eminent Domain Attorneys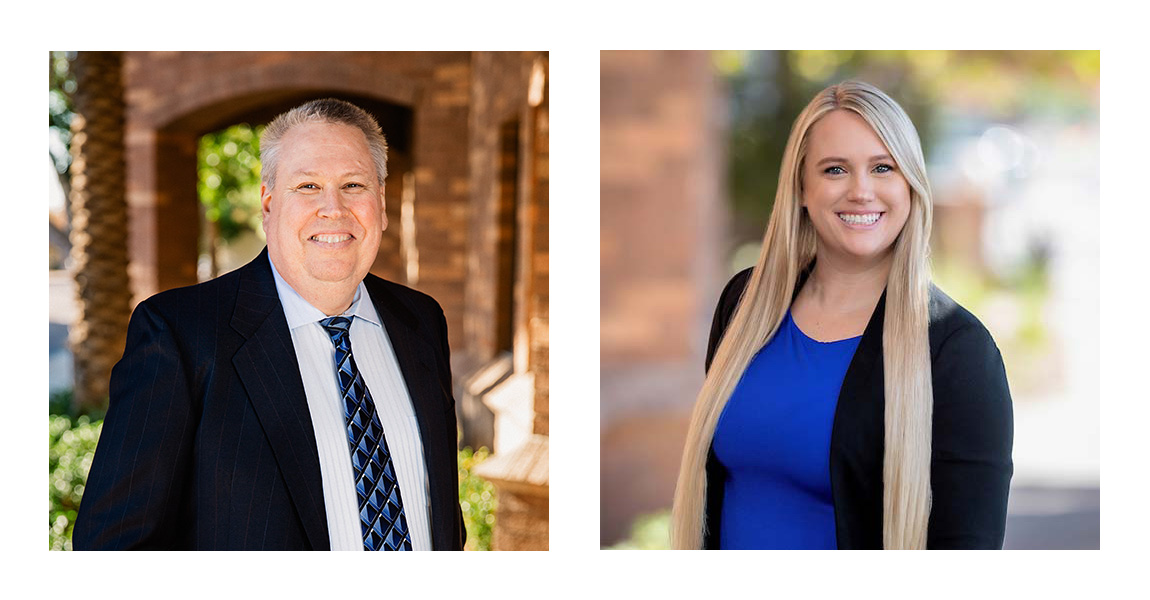 Mesa eminent domain attorneys Tony Misseldine and Kelsey Misseldine have been helping Arizona property owners for over 30 years.
You Can Trust Us With Your Case
Eminent domain can seem like a daunting situation but with legal assistance, the process can go much more smoothly. Contact our experienced Mesa eminent domain attorneys at today by calling (480)467-4334.