Experienced Eminent Domain Lawyers in Chandler
Eminent domain provides the U.S. government with broad powers to seize personal property. However, these powers do have their limits, and private property owners have certain rights that government entities must respect.
If you are facing eminent domain or another land use issue, it's important to consult with an experienced Chandler eminent domain attorney right away. Our team of Chandler eminent domain attorneys at JacksonWhite can provide legal guidance during this journey and ensure that your rights remain protected.
Eminent Domain Legal Services in Chandler, Arizona
Acquiring private property through the exercise of eminent domain is often considered a controversial topic. Certain legal requirements must be met, and property owners should always be treated fairly and receive "just compensation."
Under eminent domain, a government entity can only take private property if it can be proven that the property is needed for public use, such as for building a road. A knowledgeable Chandler eminent domain attorney can help property owners explore their options and potentially obtain greater compensation during the condemnation process.
Inverse Condemnation Services in Chandler
A property owner may choose to bring legal action against a government entity for inverse condemnation if the government deprives the owner of the property's economic value or if this action does not promote substantial government interests.
If a property owner chooses to pursue an inverse condemnation case, they will want a reputable Chandler eminent domain attorney to represent their interests. It can be difficult to determine an appropriate amount of compensation for a property that is to be taken but a knowledgeable attorney can assist with this process.
Property Tax Appeals in Chandler
In Arizona, property taxes are determined by the county assessor's office which uses two factors to determine tax amounts: valuation and classification. After establishing a property's full cash value, the assessor's office will determine the assessed valuation or limited property value based on the property's full cash value.
If a property owner does not agree with their property tax amount, they have the right to an appeals process. Working with a Chandler attorney can help ensure that this process goes smoothly.
Land Use Litigation in Chandler, AZ
Government regulation has increased in the areas of planning, land development, and zoning. With it comes the need for investors, developers, and property owners to acquire sound legal counsel. At JacksonWhite, our team of Chandler land use litigation experts can help individuals navigate a wide range of complex legal issues.
Prior to any real estate transactions, always consult with a land use attorney about potential restrictions that may be on the land. Your Chandler land use litigation attorney can assess zoning regulations on your behalf and advise you as to your options for land use.
Chandler Valuation and Counter Offers
Both valuation and counter offers are important areas of eminent domain in Arizona. Property owners are generally compensated for their property based on its fair market value. However, it is wise for property owners to consult with an attorney before accepting an appraisal from the government.
In some instances, a property owner may not agree with the government's appraisal and will want to request additional compensation based on the property's true value. In this case, a Chandler eminent domain attorney can help create a counteroffer that gets the property owner the compensation that they deserve.
Meet Our Chandler Eminent Domain Law Team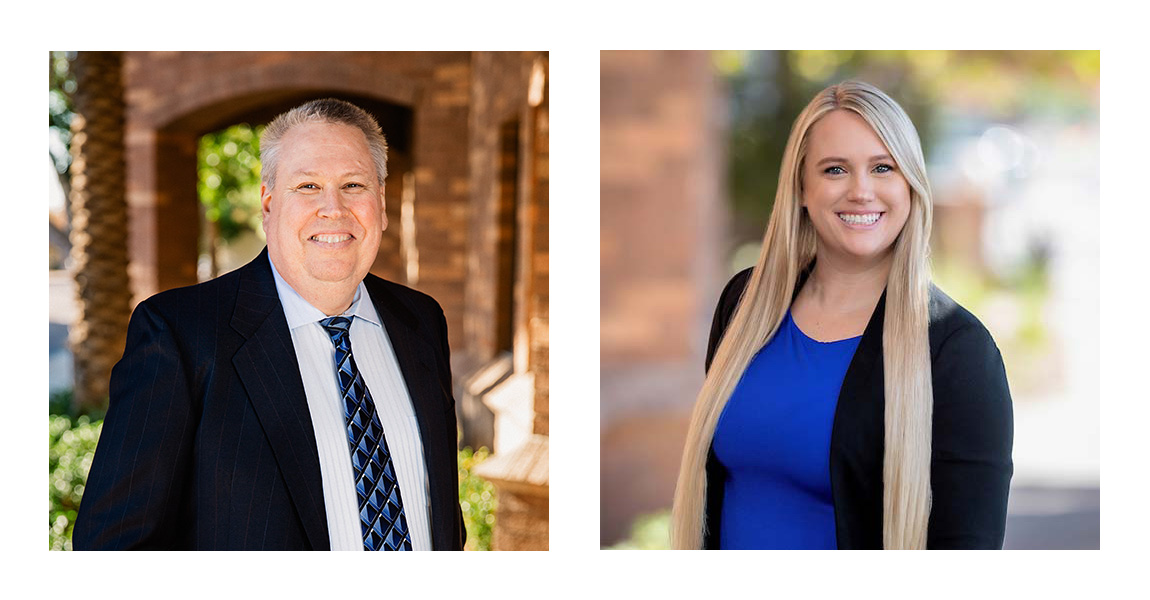 Eminent domain attorneys Tony Misseldine and Kelsey Misseldine have been helping property owners in Chandler for more than three decades!
Speak with Our Chandler Eminent Domain Attorneys
It can be confusing and overwhelming for a property owner to learn that their private property will be taken by the government. If you are facing eminent domain or another land use issue, call (480)467-4334 to speak with one of our eminent domain attorneys.