Distinguished Eminent Domain Lawyers in Tempe
Eminent domain could apply to a variety of cases. Maybe the government decides that your land is preventing the expansion of a state highway. Or perhaps your land was found to be the ideal spot for a local park. Eminent domain gives certain government entities the right to seize private property if it is done for public use, and if the property owner is fairly compensated.
At JacksonWhite, we understand the frustration that eminent domain can cause for Arizona property owners. That is why our team of experienced Tempe eminent domain attorneys work hard to fight on behalf of property owners and get them the compensation that they are entitled to.
Eminent Domain Services in Tempe, Arizona
Local, state, and federal governments have the power to take private property for public use, a process known as eminent domain. However, property owners do have certain rights and the government cannot simply seize a person's land without first offering fair compensation.
If you are dealing with eminent domain, it's important to seek legal guidance from a knowledgeable Tempe eminent domain attorney. Our JacksonWhite legal experts can help you pursue additional compensation or negotiate settlements in court.
Inverse Condemnation Law Services in Tempe
Inverse condemnation occurs when a government entity takes private property for public use, causing the property value to lower or suffer damage. When this occurs, the property owner has the right to sue for just compensation.
If you are an Arizona property owner who has been notified of a partial taken or condemnation of your property, it's best to seek legal advice from a Tempe eminent domain attorney.
Property Tax Appeals in Tempe
While many homeowners deal with high property taxes, not all property tax assessments are correct. Arizona offers property owners two ways to appeal their property taxes. First, they can pursue an administrative appeal with the State Board of Equalization and county assessor. Or they can take this important matter to court.
The team of legal experts at JacksonWhite can provide you with your legal rights and assist you each step of the way as you appeal your property tax assessment.
Land Use Litigation in Tempe
Property value is determined by how a particular property can be used. When land issues occur, such as rezoning, it can make it difficult for investors, developers, and property owners to make the changes that will give their property the most amount of value.
Before going forward with any real estate transactions, always speak with a reputable land use litigation attorney. When conflicts impede land development, our Tempe attorneys can help developers get the approval they need to move forward with their projects.
Land Valuation Legal Services in Tempe
Under eminent domain law, property owners in Arizona are compensated based on their property's fair market value, as well as the diminution of that value. It is recommended that property owners speak with a Tempe eminent domain attorney prior to accepting any appraisal from a government entity to ensure that their rights remain protected.
Eminent Domain Counter Offers in Tempe
Facing a monetary offer from a government entity for your private property? It is vital to evaluate the offer before accepting it. Work with an experienced Tempe eminent domain attorney to determine the best course of action, which could be to request additional compensation.
Meet Our Tempe Eminent Domain Law Team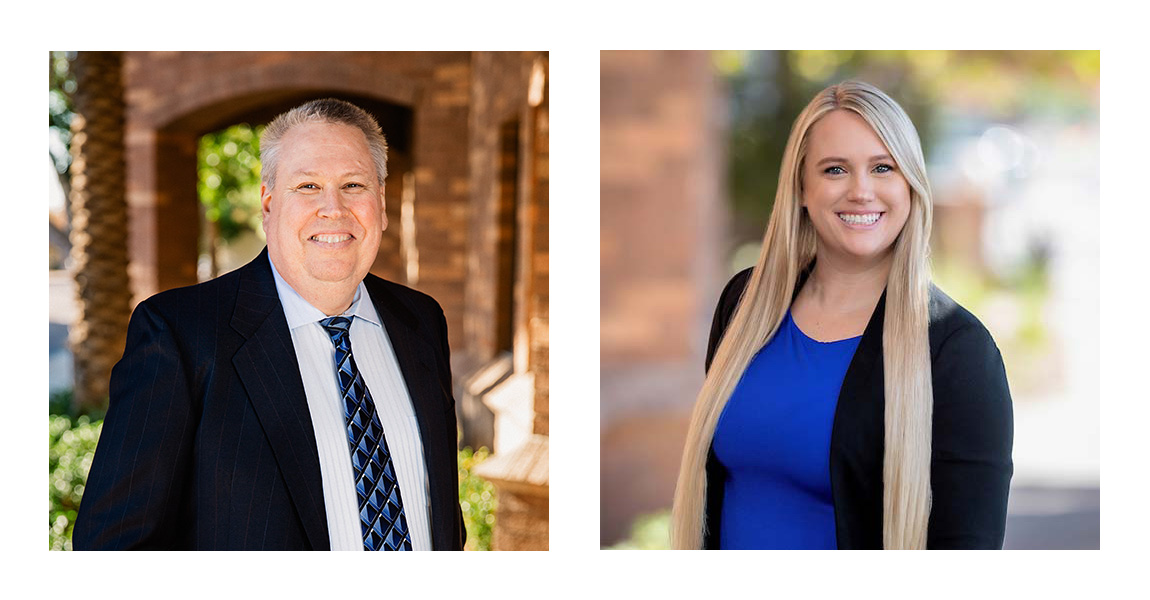 Eminent domain attorneys Tony Misseldine and Kelsey Misseldine have assisted property owners in Tempe and throughout Arizona for over 30 years!
Speak with a JacksonWhite Attorney Today
It can be difficult to protect private property when eminent domain occurs. It is important to speak with a Tempe eminent domain attorney right away to understand your options and get the compensation that you deserve. Call our Tempe eminent domain legal team at (480)467-4334 to get started.