Peoria's Most Reliable Eminent Domain Lawyers
The eminent domain process can be complicated. Problems can arise when a government's right to take private property for public use creates a conflict with the landowner's right to their property.
At JacksonWhite Attorneys at Law, we understand the frustration that this scenario can cause and work hard to ensure that property owners are fairly compensated. Our Peoria eminent domain attorneys will protect your interests and advise you on your legal rights.
Eminent Domain Legal Services in Peoria
Eminent domain refers to the government's power to take private property for the purpose of public use, such as building a new highway. While certain government entities have the constitutional authority to take private property, they must provide the property owner with "just compensation."
When faced with condemnation, it is important for property owners to speak with an experienced Peoria eminent domain attorney about their options. A property owner can choose to challenge the taking or request greater compensation during the condemnation process. If the property owner and government entity cannot come to agreeable terms, a trial will occur, and the jury will determine the compensation owed.
Inverse Condemnation Services in Peoria, Arizona
Inverse condemnation occurs when a government entity limits a person's private property rights if they lose a component of those rights. In this situation, the property owner would be entitled to compensation for their property's loss of value.
If a property owner believes that the government's action has deprived them of their property's economic value, they have the right to bring legal action against the government.
At JacksonWhite, we have helped countless clients facing government takings. If you have lost enjoyment or full use of your property due to a government entity's actions, speak with a Peoria inverse condemnation attorney about your legal rights.
Property Tax Appeals in Peoria
From sales tax to income tax, taxes are simply a part of life. However, there may come a time when a property owner discovers that their property taxes have been improperly assessed. In Arizona, property owners can appeal their property taxes via an administrative appeal or by going to court. At JacksonWhite, our team of Peoria property tax appeals attorneys can help navigate property owners through this complex process.
Land Use Litigation in Peoria
Developers, investors, and property owners occasionally run into land use issues, such as rezoning problems or interpretation of regulations disputes. When a person desires to use their property for a new purpose, they are generally required to seek approval from a government entity. If a conflict occurs during this process, it could slow down or even prevent important projects from moving forward.
The team of Peoria land use litigation attorneys can offer solid advice and clarification regarding how state and federal legislation may affect a property's value. Prospective purchasers or investors should also speak with a land use attorney prior to making any business decisions to prevent costly and time-consuming legal or political issues.
Valuation and Counter Offer Services in Peoria
Valuation is a key component of condemnation law. When faced with condemnation, it is best to hire a Peoria eminent domain attorney to determine valuation. If a property owner does not agree with the government's assessment of the property value, an attorney can also help draft an appropriate counteroffer based on the property's perceived true value.
Meet Our Peoria Eminent Domain Attorneys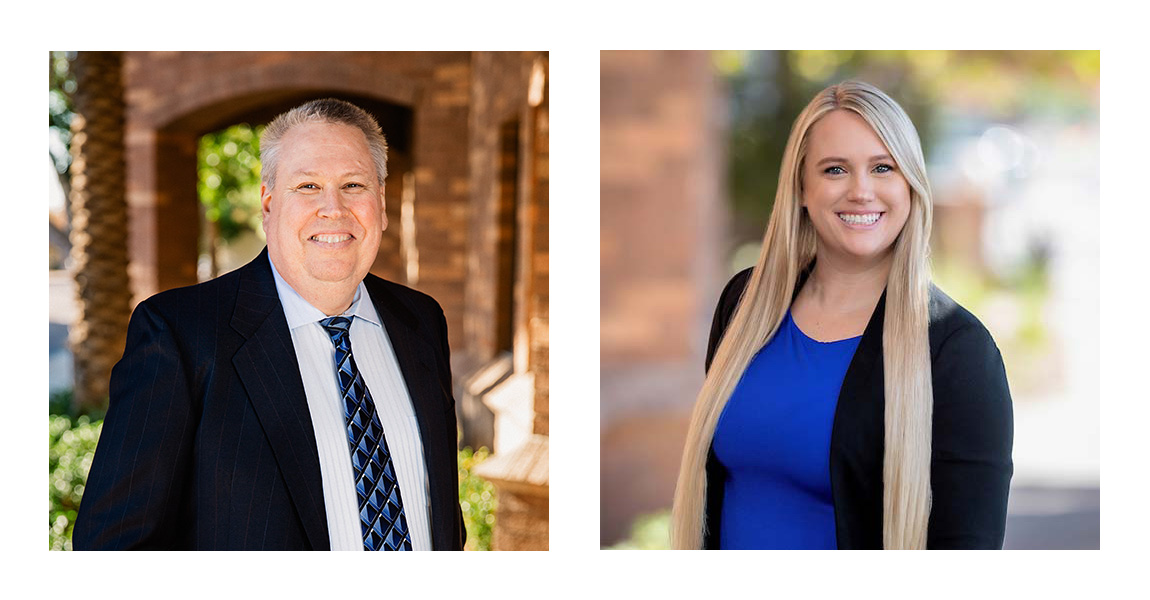 Eminent domain attorneys Tony Misseldine and Kelsey Misseldine have worked with Peoria property owners for over 30 years!
Call Upon the Eminent Domain Team You Can Trust
When it comes to eminent domain matters, it can be tough to understand the law. Do you have the right to refuse the government's offer? How can you determine what is "just compensation" for your property? Our team of knowledgeable Peoria eminent domain attorneys can answer these questions and more. Call JacksonWhite Attorneys at Law today at (480)467-4334 to discuss your case.