You deserve justice and peace of mind when it comes to your work. That's why JacksonWhite's skilled lawyers are ready to assist you with any employment dispute in Gilbert. We have successfully represented thousands of Arizonans in various workplace legal matters.
No matter if you are an employee or an employer, we have the expertise to handle your case. Contact our employment law team at (480) 464-1111 to schedule a consultation, or read on to find out more about our employment law services in Gilbert.
Gilbert Employee Law Services
You work hard to contribute to your company's success. But sometimes, your employer may not appreciate your value and treat you unfairly in your workplace.
This is not only wrong, but also illegal. That's why you need JacksonWhite's experienced team of employment lawyers to help you stand up for your rights and get the compensation you deserve.
Gilbert Wrongful Termination Cases
In Arizona, employers have the freedom to hire or fire employees at their will and for any reason. However, there are some exceptions where a termination may be considered unlawful.
For example, if your employer fires you because of something you cannot change, such as your race, gender, age, or disability, they are violating Arizona and federal laws on employment. Similarly, if your employer breaches a written employment contract by firing you, you may have a case for wrongful termination in Gilbert.
Call our Employment Law team at (480) 464-1111 to discuss your wrongful termination case today.
Gilbert Workplace Discrimination
You deserve to be treated with respect and dignity at work, regardless of who you are or what you believe. But sometimes, your employer or co-workers may act in ways that make you feel unwelcome, uncomfortable, or unsafe.
This is called workplace discrimination, and it can take many forms. You may face a hostile work environment, unequal pay, lost opportunities, or other illegal actions because of your gender, religion, race, pregnancy, disability, or any other factor that you cannot change.
You don't have to tolerate this behavior. Our lawyers can help you fight back and end the discrimination. We know how hard it is to speak up and confront your employer alone. That's why we are here to support you and protect your rights.
Call our Employment Law team at (480) 464-1111 to discuss your workplace discrimination case today.
Gilbert Whistleblower Protection
You have a strong sense of integrity and loyalty to your company. But what if you discover that your company is doing something illegal or unethical? Do you keep quiet or speak up?
This is the dilemma of a whistleblower, an employee who exposes their own employer for wrongdoing. It's not an easy decision to make, because you may still like your job and your employer — you just want them to do the right thing.
But you don't have to fear losing your job or facing retaliation for being a whistleblower. Arizona laws protect you from any adverse actions by your employer if you report them. However, you need an expert employment lawyer in Gilbert to guide you through this complex situation and ensure your rights are respected.
Call our Employment Law team at (480) 464-1111 to discuss your workplace discrimination case today.
Gilbert Employer Law Services
No two businesses are alike, and that means employers in Gilbert have to comply with employment laws that suit their specific needs. That's why businesses should adopt effective and fair practices that safeguard both their interests and their employees' rights.
Gilbert Employment Audits
Employment laws can be complex and confusing, and many business owners may unintentionally break them without realizing it. That's why our employment law team can help you review your company's policies and practices to make sure they are in line with state and federal laws.
We have a comprehensive audit system that helps both new and established businesses avoid expensive errors and uphold a high standard of ethical and legal behavior.
Call our Employment Law team at (480) 464-1111 to discuss an employment audit today.
Gilbert Workers Compensation Claims
The best way to prevent workers compensation claims is to have clear and consistent policies and procedures in place and to communicate them effectively to each employee. However, even with the best practices, claims can still arise.
Workers compensation is meant to benefit both employees and employers, but sometimes it can backfire. Employees can abuse the system and claim workers compensation for situations or conditions that don't qualify.
Call our Employment Law team at (480) 464-1111 to discuss a workers compensation case today.
Gilbert Unfair Business Practices Defense
Our Gilbert employment law lawyers have experience in handling various discrimination cases for both employees and employers.
We also help businesses to ensure that their workplace policies and culture meet state and federal requirements and prevent problems related to unfair business practices in the future.
Call our Employment Law team at (480) 464-1111 to discuss your unfair business practices case today.
Meet Our Gilbert Employment Lawyers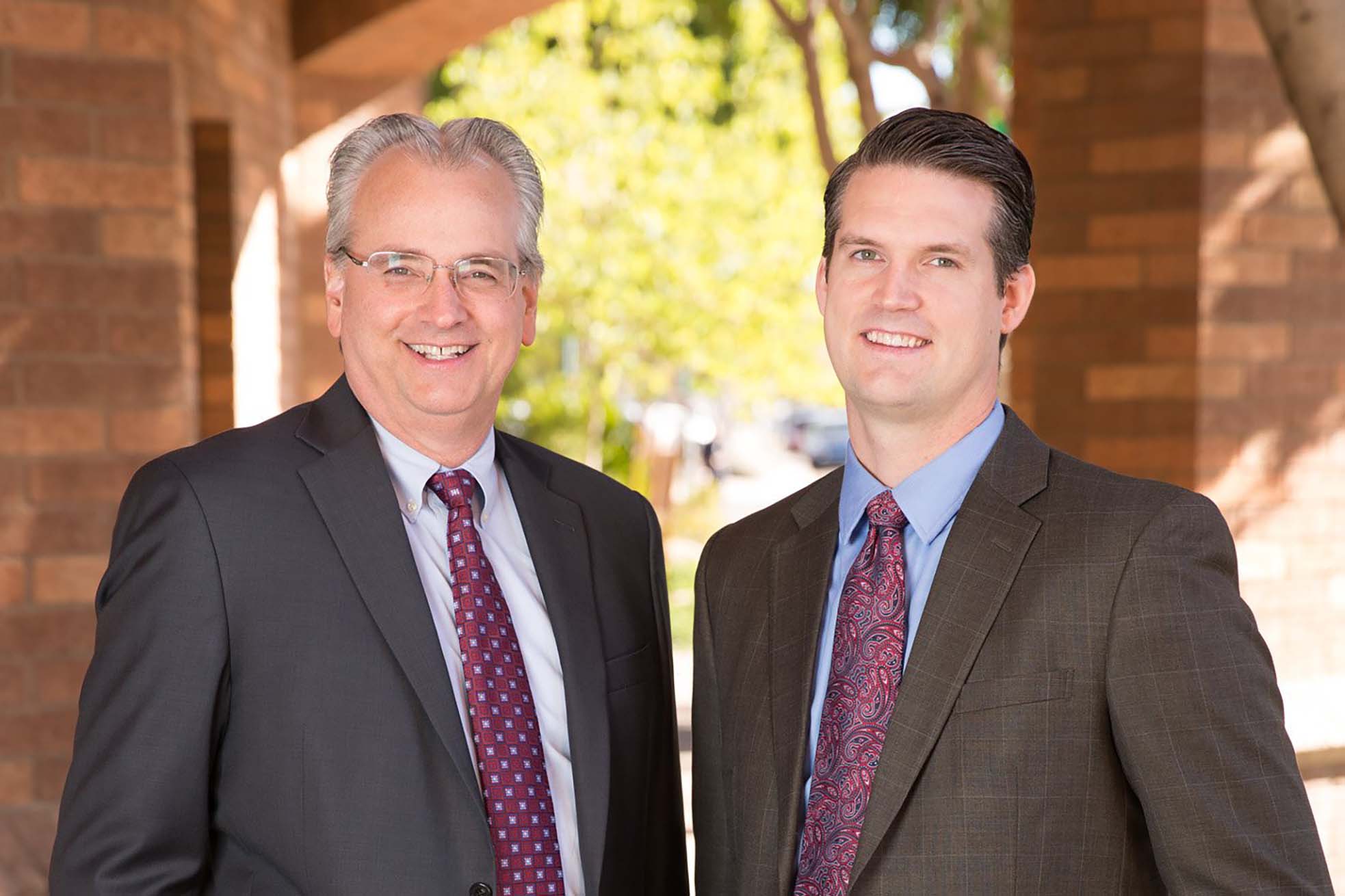 Attorneys Mike Pruitt and Nate Hill are dedicated to helping each client, showing passion and working diligently to achieve outstanding results on each case.
Michale Pruitt is one of the most decorated employment lawyers in Arizona, including being named a Super Lawyer by Thomas Reuters, a premier legal resource. Nate Hill is also a decorated attorney, and was named in the Top 100 Employment Law Attorneys by The National Advocates, in addition to being named a Rising Star by Thomas Reuters.
To learn more about our employment law team, click here.
You Can Depend On Our Gilbert Employment Law Team
Our skilled team has dealt with all kinds of employment law cases, and we always aim to provide our clients with high-quality legal services. The attorneys at JacksonWhite are ready to help!
Call our Employment Law team at (480) 464-1111 to discuss your case today, or fill out the form below.