If you need help navigating the U.S. immigration law system, the team at JacksonWhite Law is here to help. Whether you need help applying for a U-Visa, becoming a naturalized citizen, or anything in between, our team is determined to help you reach your goals.
Meet Mesa's Top Immigration Attorneys: Pace Rawlins and Mala Bajpai
The immigration team at JacksonWhite is led by attorney Pace Rawlins, a 10-year veteran of the U.S. immigration law system. Fluent in English and Spanish, he is also proficient in the Portuguese language and a novice in Arabic. Pace is member of the American Immigration Lawyers Association (AILA), starting in 2012.
Based in Mesa, Arizona, our team is prepared to take care of your case no matter what language you speak. Focused on breaking down barriers, we are the most-qualified Mesa immigration attorneys to handle your situation.
Call us today at (480) 626-2388 or tell us about your case and we will be happy to assist you.
The Mesa Immigration Attorneys You Can Depend On
Your immigration status is essential to achieving the life you want here in Mesa. We want to help you navigate the system successfully so you can continue working toward your dreams. Here are the most common types of immigration cases we take:
Visas: K1 and K3 visas, victims visas, VAWA, U Visas, T Visas, S Visas, and more
Adjustment of Status to Lawful Permanent Resident
Deportation Defense
DACA / Deferred Action
Naturalization and Citizenship
Employment and Business Immigration
Investment Visas
Waivers
Family Petitions
Our services page provides the additional information on the types of cases our Mesa immigration attorneys can take.
Visa Assistance in Mesa
No matter what type of visa you need assistance with, our Mesa immigration law team is always ready to help.
Whether you need help getting your spouse a IR1 visa for a green card, aren't sure how to apply for a victims visa, or need any other kind of help with visas, we're ready to consult with you on your case.
Our Mesa immigration attorneys have successfully helped thousands of clients become permanent residents.
Adjustment of Status to Lawful Permanent Resident in Mesa
If you have temporary status and want to become a lawful permanent resident, you will need to meet the three criteria in order to apply:
Be physically present inside the United States
Have made a lawful entry into the United States
Have an approved and current I-130 petition
At JacksonWhite, we can help you prepare and apply for adjustment of status to get a green card. When you work with an experienced Mesa immigration attorney, your chances of approval are much higher.
Deportation Defense in Mesa
You are considered "high risk" for deportation if you are:
An undocumented immigrant
A non-citizen with permanent or temporary status with a past arrest conviction
A Non-citizen with a previous deportation order, such as overstaying a voluntary departure
If you are facing deportation, you must speak with an experienced immigration attorney immediately — use your right to remain silent and do not sign anything until you speak with a lawyer. The immigration law team at JacksonWhite is highly qualified to represent you for your deportation defense.
DACA / Deferred Action Help in Mesa
In June 2019, the Supreme Court of the U.S. agreed to consider lower court decisions regarding the termination of DACA, but you are still eligible to renew if you've had DACA previously or have it now.
The future of the DACA program is uncertain, so it's best to consult with an immigration attorney ASAP and renew your application immediately if your DACA expires within the next 12 months.
Citizenship and Naturalization Assistance in Mesa
It is difficult to gain citizenship in the United States, but you have much better chance if you work with an experienced immigration lawyer. Our Mesa immigration law team can help you navigate the complex course of applying for citizenship if you meet one of the four naturalization requirements.
Employment & Business Immigration in Mesa
There are three main ways you can obtain immigrant status in the United States through work:
Obtaining a green card as permanent immigrant worker
Obtaining a work visa as a student visitor
Obtaining a temporary work visa
No matter which is the right path for you, our team can you legally and successfully gain employment in the U.S. Follow this link to learn more about our business & employment immigration services.
Investment Visas in Mesa
E2 visas (investment visas) are available for non-immigrant foreign entrepreneurs from certain nations, allowing you to travel to and from the U.S., legally work for an investment vehicle company in the U.S. and more. If you think you may qualify for an investment visa, contact our Mesa immigration law team today.
Applying for Waivers in Mesa
There are numerous situations in which you may need to apply for a waiver, usually to be granted a new visa or green card. A few examples:
If you are still in the United States after your visa has expired (unlawful presence in the U.S.)
You have a criminal record
You committed of fraud or misrepresentation to get immigration benefits during a visa application
Our Mesa immigration attorneys can help you navigate the complicated process of applying for waivers. Call us today to tell us about your case.
Family Petitions in Mesa
U.S. immigration law promotes family unity by allowing U.S. citizens to petition for a spouse, child, sibling or parent to live permanently in the United States. Lawful permanent residents can also file family petitions for a spouse or unmarried child. If you would like to file a family petition, increase your chances of approval by working with one of our attorneys.
Mesa Immigration Law Consultations
Our immigration attorneys offer confidential consultations at our Mesa location or at our offices in Phoenix, Peoria, and Scottsdale as well.
We will listen to the details of your case and discuss your options moving forward. Our top priority is to help you, no matter the type of immigration situation.
To schedule your consultation, call us today at (480) 626-2388.
Just a Few of Our Clients' Reviews
"Attorney Pace Rawlins and his assistant Gabriela Badalamenti were very supportive and guided us with the citizenship process. They both and their team are very knowledgable and helpful that made our naturalization process effortless and easy. JacksonWhite Law is an excellent law firm and all of their attorneys have an experienced and professional background that ensures the client gets the best service. I would 100% recommend them to anyone looking for an attorney."
Sima Bhensdadia, AZ
"Pace Rawlins and his team at Jackson White Lawfirm was amazing! We are very happy with their work on our greencard petition. They were great at keeping us up to date with everything. We definitely will work with this team again for the US naturalization. Great staff and amazing team to work with! We wholeheartedly recommend Pace Rawlins and his team!"
Adelina G. Lidya, AZ
Our Mesa Immigration Law Office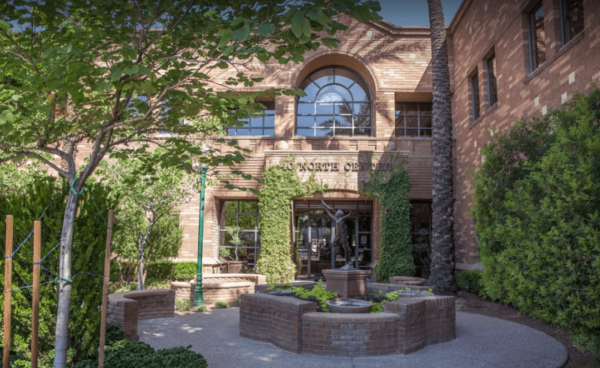 Our Mesa office is located on the northwest corner of Center Street and Pepper Place, in the heart of downtown Mesa. Call us today to schedule a consultation!
Address: 40 N. Center St, Mesa, AZ 85201
Phone number: (480) 626-2388
Government Immigration Offices, Courthouses, & Detention Facilities Near Mesa
Your case may require you to contact or visit a government office or courthouse. Or if you are detained by immigration authorities, you may be taken to a holding facility. Our immigration law team is familiar with all of the following locations.
Immigration Field Offices
Immigration Detention Facilities
Immigration Courthouses
Other Government Resources
Mesa's Premier Immigration Law Firm
Whether you need help applying for a U Visa, obtaining waivers for a criminal record, or help with any other immigration issue, the attorneys at JacksonWhite are here to help you. We are compassionate to your situation and will do our very best to assist you in navigating the U.S. immigration law system. We also have offices in Peoria, Phoenix, and Scottsdale.