Introduction
Ending a marriage is never easy. Whether you've been together for two months, two years, or two decades, reaching an equitable divorce agreement takes a lot of work — especially when there are children involved. At JacksonWhite Law, we understand how difficult getting divorced can be, so we strive to do everything we can to make it a little easier for you. From delivering compassionate customer service to fighting aggressively for your best interests, we're willing to go the extra mile to give our clients the best possible experience.
Whether you'd simply like to discuss your options or already in the middle of a complicated separation, our divorce attorneys are here to help. Give us a call at (480) 467-4348 to schedule a consultation, or send us a message using the contact form and we'll get back to you as soon as possible.
Standard vs Covenant Marriages in Scottsdale
Most marriages in Arizona are considered standard marriages, which is good news when you're getting divorced. Unlike other states that require one party to accept fault, a standard marriage may be dissolved in Arizona without any fault. The only requirement is that the marriage must be irretrievably broken, which both parties can attest to without having to assign blame.
Why is this significant? Because it's much easier to handle negotiations and reach a divorce agreement when you don't have to point fingers and place someone at fault. It's safe to say that nobody wants to be accused of infidelity or criminal activity in a divorce decree that'll become public record, let alone take the blame for why their marriage didn't work out.
That said, not all unions are standard marriages in Arizona. State law also allows covenant marriages, which tend to be popular in deeply religious families and communities. To be considered a covenant marriage, the engaged couple must complete counseling with a clergy member or marriage counselor, and sign a special declaration with their marriage license application.
Unfortunately, no-fault divorces don't apply to covenant marriages. Unless both parties agree to the divorce, the court can only issue a divorce decree for one of the following reasons:
One party abandons the other for at least 1 year

Both parties have been living separately and without reconciliation for at least two years

One party commits adultery

One party abuses drugs or alcohol

One party is convicted of a serious crime

One party or their relative who lives permanently in the home is convicted of domestic violence or child abuse
It's worth noting that assigning fault may be avoided in a covenant marriage if both parties agree to the divorce, which underlines the importance of working with an attorney who can effectively negotiate an agreement.
Contested vs Uncontested D
ivorces in Scottsdale
In the ideal world, all divorce cases would be uncontested from the get-go. Both parties would be in complete agreement, the divorce decree would be completely fair to both parties, and everything would go off without a hitch, saving everyone time, money, and effort.
Of course, divorce cases are rarely that seamless in the real world. That said, while most cases rarely start in complete agreement, it's entirely possible to reach an uncontested divorce with the help of an experienced attorney. Through hard work and negotiations, your attorney can work with your spouse's attorney to reach an agreement that's fair to both parties and doesn't require a drawn-out court battle to issue a divorce decree.
When an uncontested divorce isn't possible, seeking a contested divorce is unfortunately the only way to get a divorce decree. This may require mediation, court-mandated counseling, and hearings, and it will certainly require the assistance of a highly experienced legal team at your side.
Our JacksonWhite Family Law Divorce Attorneys
Tim is a seasoned family law attorney with decades of experience handling divorce cases. He's also successfully helped countless clients with post-decree modifications, divorce order enforcement, spousal maintenance, and the division of marital property and debts.
Jon relishes the opportunity to help his clients resolve family disputes and prides himself in making these complex matters a little easier. He's developed a reputation for compassionate care with aggressive representation, and is a member of the Arizona State Bar, Family Law section.
Our Family Law Scottsdale Office
JacksonWhite Law's Scottsdale office is located on North Scottsdale Road, just north of Old Town Scottsdale.
Address: 5635 N Scottsdale Rd, Suite 170, Scottsdale, AZ 85250
Phone number: (480) 467-4348
Where are the Family Courts in Scottsdale?
Divorce cases for Scottsdale residents take place in Maricopa Court Family Court, which is part of the Mesa Southeast Court Complex.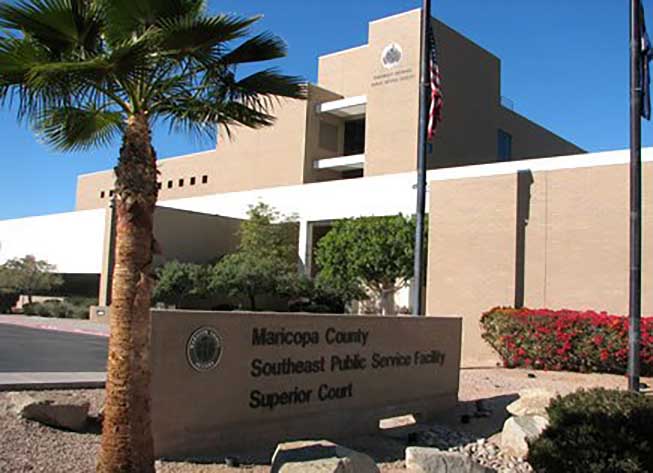 Address: 222 E Javelina Ave, Mesa, AZ 85210
Phone number: (602) 506-1561
Call Today to Schedule a Consultation
The process may be similar, but no two divorce cases are exactly alike. That's why you need a legal team that takes a personal, custom approach to every case, and that's exactly what you'll find at JacksonWhite Law.
Our attorneys understand that divorces are never easy, especially when there are children involved. In addition to fighting aggressively for our clients' best interests in divorce agreements, we have a depth of experience negotiating child support and custody agreements that ensure children are properly cared and provided for after the divorce.
Our legal team is also experienced with dividing complex marital estates, an aspect that's often intensely challenging for couples with extensive assets and business interests. Whether your marital property is subject to a prenuptial agreement or Arizona's standard marital property laws, our attorneys are experienced negotiators who won't rest until you reach a fair solution.
For More Information about our Scottsdale Family Law Services, Call the Family Law Team at (480) 467-4348 to discuss your case today.