Introduction
Child support and spousal support are some of the most challenging aspects of divorce cases and family disputes. On the one hand, the goal is to ensure that the recipient is properly provided for. On the other, it shouldn't be an undue financial burden on the party who will be making the support payments.
That may not sound too hard in theory, but in practice it's extremely difficult. Calculating support payments is a complex undertaking that must consider a wide variety of factors, and the solution is never black and white.
Scottsdale Child and Spousal Support Attorneys
Whether you're in need of child support, spousal support, or both, the family law team at JacksonWhite Law is here to help. Our attorneys have over 40 years of combined experience in resolving family disputes, and we pride ourselves in delivering compassionate client service with aggressive representation.
Ready to discuss your unique situation with our legal team? Call us today at (480) 467-4348  to schedule a consultation, or fill out our contact form and we'll get back to you as soon as possible.
Child Support in Scottsdale
Arizona law clearly states that parents have a legal obligation to provide for their child's needs. While it's assumed that parents in an active relationship will work together to fulfill those needs, parents who are separated or divorced must have custody and support orders to ensure the child's needs are met.
While no two cases are the same, most child support cases will have one custodial parent and one non-custodial parent — even if the parents split parenting time equally with the child. Both parents will be expected to financially provide for the child, but the non-custodial parent will need to provide support in the form of child support payments to the custodial parent. 
It's no secret that calculating child support is incredibly complex. The state provides great guidelines on how to calculate support payments, but in practice it's difficult to strike the right balance between providing for the child's needs and avoiding an undue financial burden on the non-custodial parent. The matter is even more difficult when the non-custodial parent has one or more children with another partner, as child support payments will directly impact the parent's ability to support their other children.
Fortunately, you don't need to tackle this gargantuan task on your own. With the help of an experienced attorney, it's a little easier to reach an agreement and obtain a court order. Down the road, your attorney can also help you to modify a court order when circumstances warrant an amendment, or enforce the order if the other parent fails to live up to their side of the agreement. 
Spousal Support in Scottsdale
Spousal support, sometimes referred to as alimony or spousal maintenance, is similar to child support in that it's intended to ensure that everyone leaves the marriage on equal ground. The goal is to avoid unfair economic consequences after a divorce or separation, though again, it's challenging to accomplish in practice.
Not all divorce or separation cases qualify for spousal support payments, especially those that involve prenuptial or postnuptial agreements. An individual case assessment is required to understand if spousal support payments are warranted, and if so, to what extent.
Unlike child support, spousal support agreements don't last until a certain age. Sometimes they're permanent, but more often than not they expire after a set number of years or when the recipient remarries. 
If you're questioning whether your case is eligible for spousal support, give us a call today at (480) 467-4348  to discuss your situation. Our experienced legal team can estimate the value of potential support payments, map out a legal strategy, and represent you in negotiations to ensure an optimal agreement.
Meet the JacksonWhite Family Law Team
Tim is the senior attorney on our family law team, and he brings a wealth of experience to the table. Tim has helped countless clients with child support and spousal support cases, from negotiating new agreements to modifying and enforcing court orders.
Jon McAvoy is a member of the Arizona State Bar, Family Law section. He's developed a reputation for compassionate client care that's simply unrivaled, delivering optimal results for his clients by listening to their unique situation, asking the right questions, and aggressively fighting for their best interests.
Our JacksonWhite Family Law Scottsdale Office
JacksonWhite Law has three locations throughout the greater Phoenix area. Our Scottsdale office is situated on North Scottsdale Road, just north of Old Town Scottsdale.
Address: 5635 N Scottsdale Rd, Suite 170, Scottsdale, AZ 85250
Phone number: (480) 467-4348 
Where is the Scottsdale Family Court?
As part of the family court, child support and spousal support cases are handled by the Maricopa County Family Court in Mesa. The court is conveniently located less than one mile from JacksonWhite Law's Mesa office, making it easy to meet with your attorney just before or after a scheduled court appearance.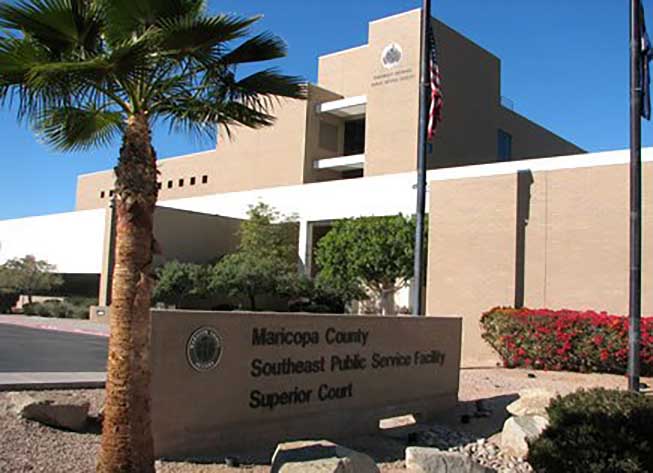 Address: 222 E Javelina Ave, Mesa, AZ 85210
Phone number: (602) 506-1561
Why Choose JacksonWhite Law?
The JacksonWhite family law team prides itself in delivering compassionate client care and aggressive representation. 
When it comes to client care, we strive to provide a superior experience from the very first consultation by listening to your unique situation, asking the right questions, and seeking to understand your goals and expectations. We'll explain how Arizona law impacts your case, and construct a comprehensive plan to help you achieve the best possible outcome.
Once our legal team understands your needs and goals, it's our job to fight for those on your behalf. Whether that involves private negotiations, mediation, or court hearings, we're not afraid to stand up for your best interests and do everything possible to help you achieve your goals.
For More Information about our Scottsdale Family Law Services, Call the Family Law Team at (480) 467-4348 to discuss your case today.