Introduction
Resolving family disputes is rarely easy, especially when there are children involved. It's one thing to divide assets and debts in a divorce or separation, and it's entirely another to divide a child's time with their parents.
In a perfect world, children with divorced or separated parents would spend equal time with their parents. Unfortunately, that's only possible when the parents live close enough to accommodate the child's schooling and extra-curricular activities, and even then it's a challenge to set a schedule that leads to a balanced lifestyle.
Scottsdale
Child Custody Attorneys
More often than not, the ideal solution means that one parent takes on the role of custodial parent to provide consistency, while the non-custodial parent enjoys visitation on weekends, school breaks, and holidays. 
Either way, whether you're able to strike gold with a perfectly balanced schedule or revert to a custodial and non-custodial parent arrangement, you'll need a custody agreement to lay out the details. Furthermore, you'll need the agreement to be officialized as a court order for it to be enforceable, which is critical if one or both parents fail to live up to the agreement.
Whether you're considering your options before an imminent separation or already in the middle of a divorce, the child custody attorneys at JacksonWhite Law are here to help. Our family law team has over 40 years of combined experience in family law, and we pride ourselves in delivering compassionate client service with aggressive representation.
When you're ready to discuss your situation and start mapping out a legal strategy, call us at (480) 467-4348 to schedule a consultation. You can also fill out our contact form, and we'll get back to you as soon as possible to schedule a meeting. 
What to Expect During a Child Custody Case in Scottsdale
There are a variety of factors involved in a child custody case, all of which deserve careful consideration and planning. Of those, there are three aspects that tend to be the most important, and often require the most negotiation between parents: 
Parenting time

Legal decision-making

Child support
Parenting Time
Parenting time is the legal term for physical custody in Arizona. Part of the custody agreement will involve creating a parenting plan that clearly outlines each parent's opportunity to spend time with the child. The goal is to strike a balance between creating a schedule that maximizes time with both parents while preserving important routines like attending school and engaging in extracurricular activities.
The state of Arizona provides guidelines and suggestions for parenting plans, but the final plan is ultimately up to the parents. Each parenting plan should be tailored to your unique situation, as no two cases are the same.
Legal Decision-making
Where parenting time refers to physical custody, legal decision-making refers to legal custody in Arizona. And unlike the former that's nearly impossible to split evenly, legal decision-making is almost always equal due to the state's emphasis on preserving parental rights.
So, what does legal decision-making entail? It means that the parent has the right to participate in important life decisions for the child, including schooling, religious upbringing, participation in sports and extracurricular activities, and healthcare. 
In practice, that means that parents with joint custody must both be a part of decisions like which school the child should attend, if/where they go to church, which sports they do (or do not) participate in, and which treatment options to pursue in healthcare matters.
While courts may restrict parenting time when one parent is deemed to be a poor influence due to criminal convictions, they will rarely take away the fundamental parental right to play a role in legal decision-making for the child.
Child Support
Arizona law clearly states that parents have an obligation to financially provide for their children, which means that child support will always play a role in custody cases. The goal is to strike a balance between providing optimal financial support for the child and avoiding undue financial burden for the non-custodial parent. 
While negotiating child support takes place at the same as parenting time and legal decision-making, it's important to remember that child support and custody are completely separate matters. In other words, a parent who falls behind on child support cannot be denied parenting time or legal decision-making authority.
Meet the JacksonWhite Family Law Scottsdale Team
Tim is the senior attorney on the JacksonWhite family law team. Over the years he's helped countless Scottsdale families reach custody agreements, and he takes pride in helping his clients resolve their family disputes.
As a member of the Arizona State Bar, Family Law section, Jon is passionate about helping families in Scottsdale. Thanks to an emphasis on getting to know his clients' unique situations by asking the right questions and listening, Jon has developed a reputation for compassionate care that's truly remarkable.
Visit Our Child Support Attorneys at our Scottsdale Office
JacksonWhite offers three convenient locations throughout the Phoenix metro area in Mesa, Scottsdale, and Peoria. You'll find our Scottsdale office just north of Old Town Scottsdale, on the corner of North Scottsdale Road and East Valley View Road. 
Address: 5635 N Scottsdale Rd, Suite 170, Scottsdale, AZ 85250
Phone number: (480) 467-4348
Where is the Scottsdale Family Court?
While our office is conveniently located in Scottsdale, you'll need to visit Mesa for court appearances. All family court cases in the Phoenix area are handled by the Maricopa County Family Court, part of the Mesa Southeast Court Complex.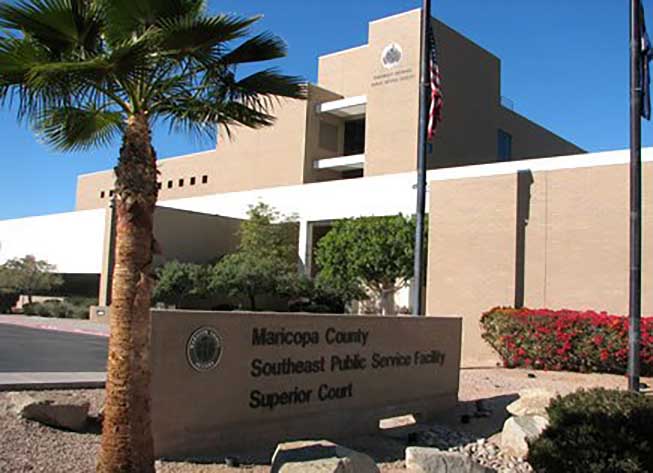 Address: 222 E Javelina Ave, Mesa, AZ 85210
Phone number: (602) 506-1561
Why Should you Choose JacksonWhite Law?
With more than four decades of combined experience in family law, the child custody attorneys at JacksonWhite Law are uniquely positioned to handle your custody case. We've worked hard to develop a reputation of compassionate client service and aggressive representation, which means we understand the emotional challenges that you're facing and we're not afraid to fight for your best interests.
For More Information about our Scottsdale Family Law Services, Call the Family Law Team at (480) 467-4348 to discuss your case today.