Our experienced legal team can help you set up a conservatorship for a loved one.
Conservatorships can only be established through the courts, but anybody with an interest in another person's estate can petition the court to establish a conservatorship for that person.  As with guardianships, people do not necessarily require legal counsel to establish a conservatorship, but a conservatorship attorney can be quite helpful in facilitating the conservatorship petition and hearing.
Types of Conservatorships We Offer
In Arizona, conservatorships can be both broad and limited. Here are the types of conservatorships we offer at JacksonWhite:
Limited Conservatorships
In a limited conservatorship, the protected person may need some decision-making assistance with their finances, healthcare, and/or living arrangements, but he or she isn't fully incapacitated and can still manage some of their own affairs. A good example would be an elderly adult who can't handle the complexity of managing their investments, but who possesses enough rational-thinking capabilities to consult with doctors, make important healthcare decisions, and make living arrangements. In some cases, a limited conservatorship can even be established for a single transaction (like selling a house) or a series of transactions (such as selling assets in a 401k to make monthly income distributions).
General Conservatorships
As the name implies, a general conservatorship offers the conservator broad, sweeping control over the protected person's affairs. General conservatorships are often referred to as adult guardianships.
Emergency Conservatorships
The law provides an expedited solution for emergency situations where the incapacitated adult is in imminent danger of death or serious bodily injury. If the petitioning party can prove that an emergency conservatorship is necessary, the court can appoint an emergency conservator in as little as 24 hours or less. The emergency conservator is usually appointed for six days, after which the emergency conservator would need to petition for temporary guardianship if he or she needs to retain their decision-making authority until a permanent conservatorship is appointed.
Temporary Conservatorships
A temporary conservatorship is intended to provide the protected person with an interim conservator until a permanent conservator is appointed (full conservatorship proceedings can take months to complete).
Special Conservatorships
A special conservator is appointed by the court to carry out the terms of an order. The conservator only has the legal right to handle financial assets that have been specified by the court order.
Appointing an Arizona Conservator
Once petitioned, the court appoints an attorney to represent the proposed ward and schedules a hearing on the matter. A court investigator prepares for the hearing by interviewing family members and friends. The court may also require a medical or psychological report from a medical expert. At the hearing, the court evaluates the conservatorship information, and appoints a conservator if necessary. This entire process takes about eight weeks, although a temporary conservator can be appointed for certain emergencies in about three to ten business days.
A good starting point for establishing a conservatorship is consulting with an Arizona conservatorship attorney. The conservatorship attorney will review the important documents, such as powers of attorney, trusts and Wills. Based on the relevant conservatorship information, the attorney can help determine whether petitioning the court for a conservatorship is a good idea. If necessary, the conservatorship attorney can prepare the appropriate documents and initiate the court proceeding.
Alternatives to Conservatorships
Similar to guardianships, Arizona conservatorships are generally reserved for those who have not designated somebody to handle their financial affairs.  Those who make plans in advance, however, can reduce the likelihood that they will require an AZ conservatorship at some later time.  Legal tools are available that can serve as viable alternatives to conservatorships:
Durable Financial Power of Attorney
An individual (called a principal) can use a financial power of attorney to appoint an agent to handle his financial and legal affairs.  There are certain guidelines for establishing a valid Arizona financial power of attorney:
The principal must understand the nature and effect of signing the financial power of attorney.
The principal must sign the financial power of attorney willingly.
A notary and witness, other than the agent, the agent's spouse or the agent's children must sign the financial power of attorney.
A financial power of attorney can be revoked or changed for as long as the principal has capacity.
To be valid, an Arizona financial power of attorney must meet certain requirements.  Financial powers of attorney do not, however, have to be on any specific form.  Free downloads of valid financial powers of attorney can be downloaded from JacksonWhite's website.
With living trusts, people can designate a trustee to manage trust assets according to their wishes.  By designating somebody else as the trustee, people can ensure that trust assets are protected even if they lose capacity.  Trustees are bound by fiduciary duties to use trust assets according to the terms of the trust, so those who plan ahead by establishing a trust can implement financial strategies that may remain in effect even beyond their lifetime.  By the time an individual requires a guardian or conservator, however, establishing a trust is no longer an option, as capacity is also a requirement for establishing a trust.  As such, just like with powers of attorney, the time to consider a trust is before health problems arise.
You Can Trust Our Team For Conservatorship Services in Arizona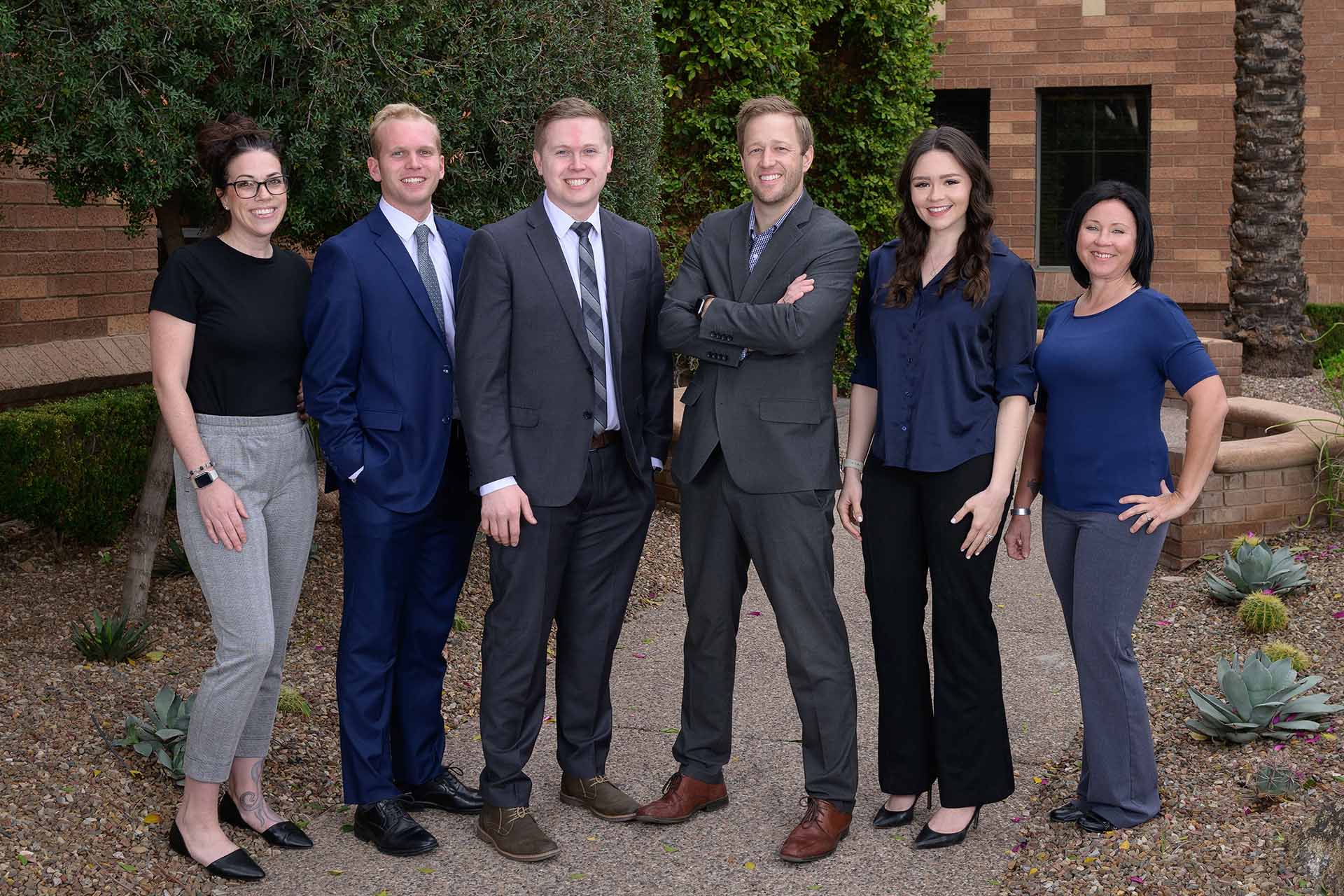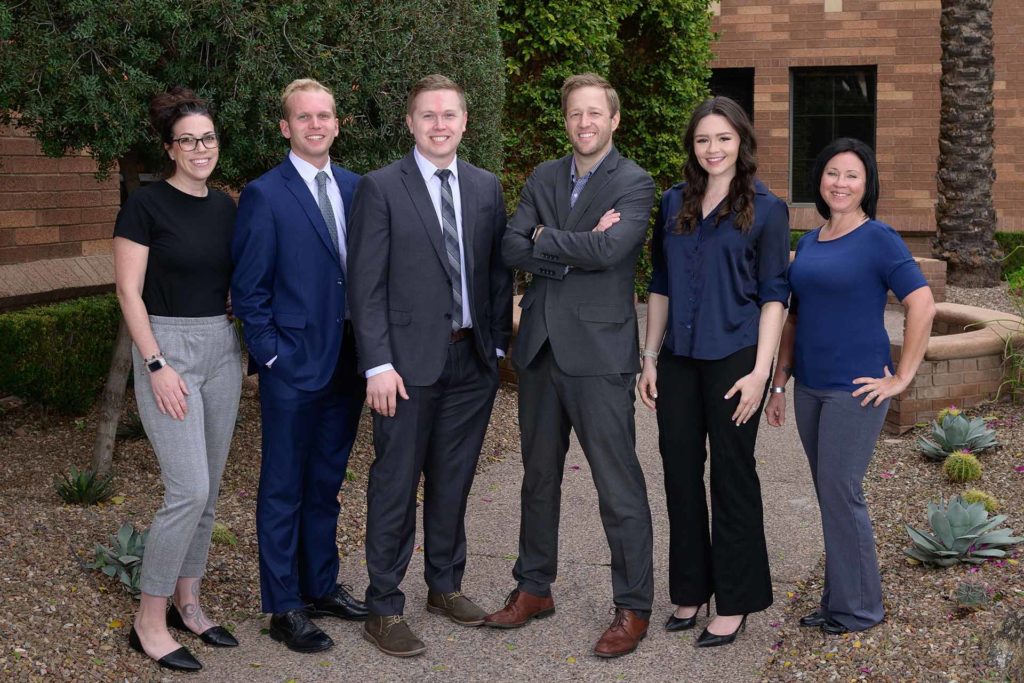 When you are ready to get the conservatorship process started, our team — led by attorney Colton Johnson — is here to guide the process. The JacksonWhite Guardianship and Conservatorship team of attorneys, paralegals, and legal assistants has helped hundreds of families navigate this often daunting procedure. Contact us below and our dedicated team will help your family move in the right direction.
Call our Guardianship and Conservatorship Team at (480)467-4313 to discuss your case today.
We are a full-service law firm focused on serving our clients.