Get the Help You Deserve with
Injury & Accident Attorney Jared Everton
If you've been hurt and are looking for a personal injury lawyer in Mesa or the Phoenix metro area, the experienced, committed and compassionate lawyers of JacksonWhite Attorneys at Law will fight tirelessly for your rights.
We'll see that you receive proper compensation for your injuries, and we don't get paid unless you win your case.
To learn more about how Mesa personal injury lawyer Jared Everton can help with your case, call us today at (480) 467-4349
Do you know how much your case is worth?
Find out how much compensation you may be entitled to for your accident or injury.
Receive the Compensation You Deserve
For more than ten years, Jared Everton has been helping Arizonans receive fair and proper compensation for the injuries and accidents. His exhaustive knowledge of injury law in Arizona allows him to help clients with all types of injuries, and his results speak for themselves.
Some of Jared's recent compensations include: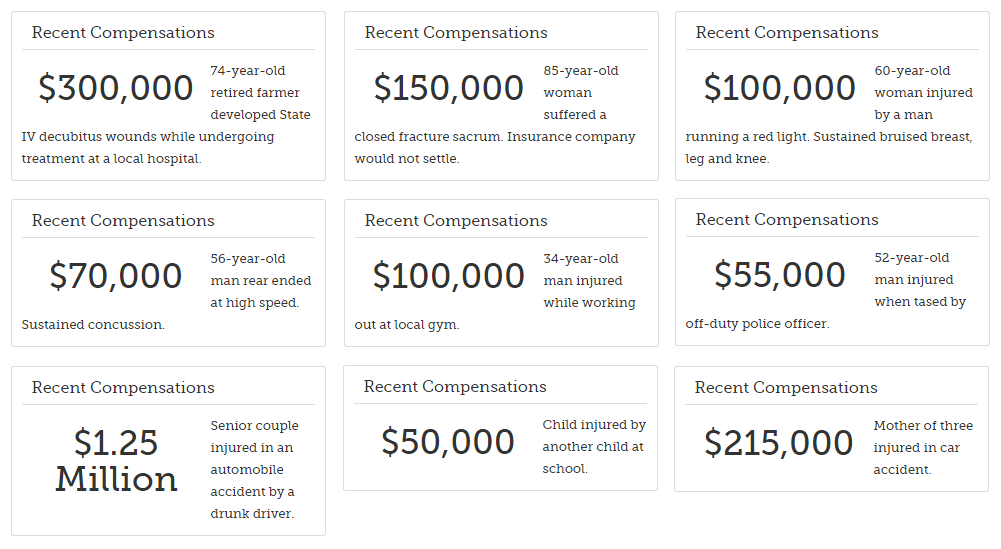 Click here to read testimonials from past JacksonWhite injury clients.
Superior Legal Care in Phoenix and Mesa, Arizona
At JacksonWhite, we understand the emotional, medical and legal implications of going through an accident. Injuries make people feel vulnerable, weak and overwhelmed.
Hospital visits, possible surgeries, lost work time and the loss of abilities are all frustrating. The team at JacksonWhite can help alleviate these frustrations by making your legal path as clear as possible.
When you turn your legal care over to the attorneys at JacksonWhite Law, your case is given the time, attention, research and strategy it needs to maximize your appropriate compensation.
At every stage of your case, we're available to answer questions, provide guidance and offer support when it matters most.
Your Well being is Our Priority
The Mesa accident attorneys of JacksonWhite Law take every effort to make things as easy as possible for our clients. If your injury prevents you from traveling, we'll come to you.
Consultations are available over the phone or in our Mesa-based office, so no matter where you're at in the Phoenix metro area – or Arizona – we can help with your injury or accident case.
Call us at (480) 467-4349 to learn more about how we can help with your injury or accident case.
Personal Injury Service at No Risk to You
Because we work on contingency, we only get paid unless you receive compensation for your injuries. Although many other injury attorneys take this approach, we spend more time evaluating your case upfront.
This allows us to better understand your legal options and prepare for obstacles down the road. This insight and case preparation allows our team to be one of the most effective and efficient injury firms in Arizona.
By spending more initial time on your case, we're able to craft a legal strategy that maximizes your chances of receiving compensation. Every year, we deal with clients with all types of injuries, and our success rates are high across the board.
So no matter what injury you're dealing with, the Arizona injury lawyers of JacksonWhite Law can help. Our knowledgeable, caring team offers the quality, resources and guidance you deserve.
We Handle All Types of Injuries
At JacksonWhite, we handle all types of accidents and injuries, whether they occurred in Mesa, Phoenix or other parts of Arizona. We work with any kind of accident or injury due to the negligence of another person or business, including:
Click here to see a complete list of the injuries and accidents we can help you with. Jared Everton also works with Arizona residents who need Social Security disability benefits.
If you want individualized attention and superior counsel from your Mesa injury attorney, call Jared today to discover how we can help you.
The East Valley's Premier Injury Firm
JacksonWhite has been serving the East Valley and Phoenix metro area for more than 25 years. Our personal injury team has helped thousands of people in Arizona get the proper legal service they need and the compensation they deserve.
Whether you've been injured at work, at home or on someone's private property, Arizona injury attorney Jared Everton can help get the legal results you desire. With Jared's experience and assertive legal approach on your side, you have excellent chances of success in court.
When you're ready to see how we can help you, call (480) 467-4349 to schedule your injury consultation.
JacksonWhite's main location in Mesa – and satellite office in Peoria, Arizona – allows our firm to offer affordable legal counsel to people all over the Phoenix metro area. Even if your injury has made you unable to visit our office, you can still meet with our attorneys at your convenience to review your case.
Call Jared Everton today at
(480) 467-4349

for your consultation.
---
Arizona Personal Injury Resources
JacksonWhite Law is a full-service firm. In addition to personal injury, we also offer services in family law, criminal defense, intellectual property, elder care, employment law and other areas of law. Learn more about our firm here.