Arizona's roads are highly congested at what seems to be all hours of the day, and the high congestion tends to cause an extreme amount of accidents each and every day. A large portion of these accidents are nothing more than a fender-bender where both drivers are able to walk away with personal injuries, but a growing portion of these accidents include a commercial truck and when large trucks are involved the accidents can be quite severe.
While any car accident can have a lasting financial and physical impact on a person's life, they do not compare to the lasting damage that occurs from a commercial truck accident. On average, a commercial truck weighs 20-30 times the weight of a passenger car and with that a loaded commercial truck takes on average 20-40 percent more distance to stop than a regular passenger car. These factors play a major role when it comes to maneuvering on Arizona's congested roads and they also lead to accidents with immense damage and death.
Phoenix's Premiere Truck Accident Attorney
Jared Everton has been practicing law for over two decades, and he has devoted his time to representing the victims of car accidents and the victims alone. Jared and his team do not help the at-fault driver get away with causing an accident, rather Jared specializes in protecting injured victims and assists them with obtaining the best settlements possible.
If you have been injured in an accident with a commercial truck, call Jared today to set up your no-hassle, free consultation.
Injured in a Truck Accident? Here's How We Can Help
Even though each state and the federal government have set strict standards for each commercial driver to adhere to, these standards are often broken as truck drivers are on the road longer than they should be and are driving fatigued or when the trucks and the trailers they are pulling are not properly secured and safe to drive. When standards like these are broken, other drivers on the roads are not safe and then an eventual accident will permanently impact the other driver and passengers.
With the added weight and size, commercial truck accidents often result in serious injuries and death of drivers and passengers in the car they hit. These victims undoubtedly will have their lives changed forever, and it will take extended periods of time for them to properly recover from the injuries sustained and from the financial strain the accident will cause if they do not have an experienced attorney to assist them in recovering the money they need.
Jared and his team have successfully been assisting the victims of commercial truck accidents for the last 20 years, and he is able to assist you in obtaining the best settlement. When left to deal with the trucking company and their insurance, victims are often shorted and receive only a portion of what they not only need, but also deserve. If you have been injured in a commercial truck accident and do not want to be responsible for excess medical bills and car repairs, allow Jared to help.
Meet Jared Everton, Phoenix's Leading Truck Accident Injury Attorney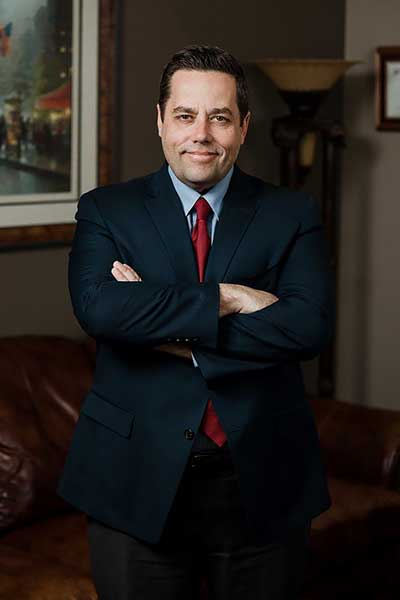 JacksonWhite's personal injury team is led by Jared Everton who is licensed to practice in the State of Arizona, in front of the United States Ninth Circuit of Appeals as well as the United States Supreme Court. Jared has dedicated the last 20 years serving the victims of truck accidents and has been assisting them in obtaining the best settlements for their case.
As a member of the Arizona Bar Association and the American Association for Justice, Jared has diligently protected his clients and has deservingly been awarded the Super Lawyers Rising Star. You can trust Jared as Phoenix's leading personal injury attorney.
Our Phoenix Office
If you aren't located near our Phoenix office or otherwise cannot make it to an in-person meeting, Jared also offers free consultations over the phone.
Address: 7342 W Indian School Road Suite 120 Phoenix, AZ 85033
Phone Number: (602) 691-5180
Top Truck Accident Injury Law Firm in Phoenix, Arizona
If you have been injured in a truck accident, Jared and his team are here to fight for the compensation you deserve. We represent all types of car, truck, and motorcycle injury cases. Contact us today to set up your free, no obligation consultation.
Call Personal Injury Attorney Jared Everton at (602) 691-5180 to discuss your case today — or fill out the form below!
Schedule Your FREE Consultation
Fill out the form below to get your consultation and discuss your best legal options.
We also have offices in Mesa, Scottsdale, and Peoria.