With a population of over 1.6 million residents, the city of Phoenix has the most congested streets and highways in the state and with that congestion comes auto accidents. If you are like the thousands of individuals who are involved in a car accident in Phoenix each year, local Phoenix personal injury attorney Jared Everton and his dedicated team are here to assist you with obtaining the best settlement for your case.
Jared and his team have been representing victims of car accidents for over 20 years and these years of experience have allowed for Jared and his team to learn the ins and outs of working with insurance companies and how to ensure his clients are correctly compensated.
Call us today at (602) 691-5180 to set up your free consultation with Phoenix's premier personal injury attorney.
Types of Phoenix Car Accidents Jared and His Team Work With
Jared and his team have spent many years dedicating themselves to fighting for the victims of car accidents, and the victims alone. This means that Jared does not protect the at fault driver in an accident, instead he devotes his time and efforts to assisting the victims involved in car accidents.
Common types of auto accidents Phoenix's premier personal injury attorney and his team work on are as follows:
Head on Collisions
Rear End Collisions
Pedestrian Road Incidents
Bicycle Road Accidents
If you are not sure whether or not Jared and his team can take on your case, give us a call and set up your free consultation.
Do I Need a Phoenix Car Accident Attorney?
Arizona law requires every driver on the road to  have valid insurance while driving to provide monetary relief after an accident, but insurance companies are not eager to pay more than the bare minimum.
Even though the severity of your accident may seem minor or that the claims from the at-fault driver's insurance company seem sufficient, it is highly beneficial for you to have an attorney on your side to protect you and ensure that you will not be taken advantage of.
In most circumstances the bare minimum will not cover all of the costs associated with an auto accident and this can leave you paying out of pocket. This can be avoided if you have an experienced personal injury attorney on your side who is fighting to obtain the money that you are rightfully owed.
There is much to deal with following an accident and far too often there isn't enough time to properly  take care of yourself. Let us ease your burden and competently take care of your case.
Meet Jared Everton, Phoenix's Top Car Accident Attorney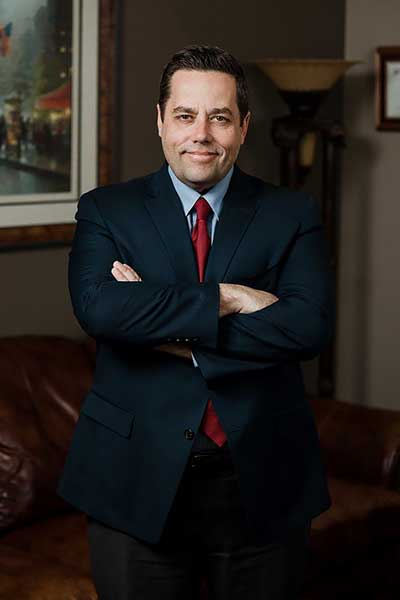 JacksonWhite's personal injury team is led by veteran personal injury attorney Jared Everton and his over 20 years of experience representing car accident victims. Jared is licensed to practice in the State of Arizona, in front of the United States Ninth Circuit of Appeals as well as the United States Supreme Court.
Jared is an active member in both the Arizona Bar Association and the American Association for Justice. Throughout his years of skillfully protecting car accident victims, Jared's hardwork  and determination have twice one him the Super Lawyers Rising Star award. If you have been injured in an accident, Phoenix's premier personal injury attorney Jared Everton is here for you.
Just a Few of Jared Everton's Client Reviews
"Jared Everton and his team worked tirelessly to negotiate with medical providers and insurance company to reach a satisfactory settlement regarding my automobile accident. The end result was much better than I expected. I have also used Jackson White Law for Divorce proceedings and subsequent related issues and have never been disappointed in the results. Everyone I have come across at this firm is extremely professional, knowledgeable, experienced, and competent."
David A, AZ
"Jared and the entire staff of Jackson White were a pleasure to work with! I survived a traumatic, life-threatening experience in 2016. Jared helped me navigate the legal end of the situation, providing reliable and realistic advice and support every step of the way. He was quick to respond to all of my questions with patience and helped turn a difficult situation into a solution I feel good about. I would recommend Jared to anyone needing dependable and honest representation–you will not be disappointed!"
Courtney Roose, AZ
Our Phoenix Office:
Address: 7342 W Indian School Rd #120, Phoenix AZ 85033
Phone Number: (602) 691-5180
We are the Premier Auto Accident Injury Law Firm in Phoenix
If you have been injured in an auto accident, Phoenix's premier personal injury law team is here to assist you with obtaining the compensation that you not only deserve, but need. Contact us today to set up your free, no obligation consultation.
Call Personal Injury Attorney Jared Everton at (602) 691-5180 to discuss your case today — or fill out the form below!