Phoenix's Most Trusted Motorcycle Accident Lawyer
The National Highway Traffic Safety Administration has reported a decrease in severe motorcycle accidents and deaths over the last few years, but the decrease does not mean that Arizona's motorcycle riders are not the most vulnerable individuals on the roads. Rather, Phoenix's roads are packed with distracted drivers whose careless actions are continuously causing serious motorcycle accidents each and every day.
As a motorcycle driver in Arizona, you undoubtedly know that you have a higher likelihood of being involved in an accident and that the severity of the accident is often very serious. To combat this, many riders develop skills and precautionary driving patterns to protect themselves while on the road, but all the skills in the world will not protect you from the actions of another driver that occur in the blink of an eye.
If you have been injured in a motorcycle accident, Phoenix's premiere personal injury attorney Jared Everton and his team are here to help you. Jared and his team have been working on behalf of Arizona's motorcycle accident victims for the last 20 years and have succeeded in helping them obtain the best settlement possible.
Call us today at (602) 691-5180 to schedule your free consultation!
Why You Can Trust Jared to Take Your Motorcycle Accident Case in Phoenix
Jared practices personal injury law, and this means that he and his team only represent injured victims of all types of car accidents, not the person at-fault. This means Jared and his team look after the victims of motorcycle accidents and assist them in obtaining significant settlements.
In an accident involving two cars, very often the drivers and passengers experience minimal injuries to themselves as well as to their car that they are in, whereas motorcycle accidents are the opposite. Motorcycles lack the size and security that a regular car offers and because of this, the injuries sustained by a motorcycle rider in an accident are for more severe than the injuries sustained in a car. This is best seen in the tamest of accidents, a fender bender. When a car slams into the motorcycle, the driver in the car has a large steel frame and airbags to prevent them from flying through their windshield, all the while the motorcycle driver has nothing to prevent them from being thrown from their bike or even becoming trapped underneath the car.
Motorcycle accidents of every severity occur each day and every day. If you were injured in a motorcycle accident, call Phoenix's most experienced personal injury attorney Jared Everton and his team to set up your free no hassle consultation.
Phoenix Motorcycle Accident Attorney Jared Everton Can Help You
If you have been injured in a motorcycle accident, insurance payouts and settlements may not be enough to cover all of the costs relating to your accident. As is most often the case, motorcycle accident victims are more seriously injured than others and this means longer stays in the hospital, more hands on medical care, long periods away from work and permanent pain and injuries.
Jared and his team have been dealing with the petty offers of insurance companies for many years, and this has given him the experience needed to protect motorcycle accident victims from lowball offers and to instead obtain the highest settlement possible. If you were injured in a motorcycle accident, do not rely on insurance to make things right and to pay the bills, instead allow Jared and his experienced team to assist you in obtaining every dollar you deserve.
Meet Jared Everton, Mesa's Leading Personal Injury Attorney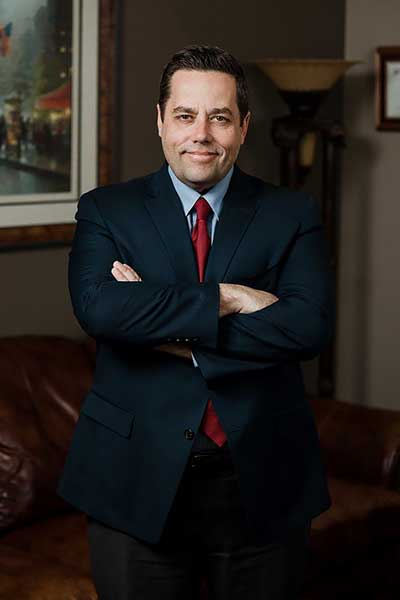 JacksonWhite's personal injury team is led by Jared Everton who is licensed to practice in the State of Arizona, in front of the United States Ninth Circuit of Appeals as well as the United States Supreme Court. Jared has dedicated the last 20 years serving the victims of motorcycle accidents and has been assisting them in obtaining them best settlements possible.
As a member of the Arizona Bar Association and the American Association for Justice, Jared has diligently protected his clients and has deservingly been awarded the Super Lawyers Rising Star. Jared is Mesa's leading personal injury attorney for you.
Trust the Top Motorcycle Accident Injury Law Firm in Phoenix
If you have been injured in a motorcycle, car, or truck accident, or boating accident, attorney Jared Everton is here to help you get the compensation that you deserve. Contact us today to set up your free, no obligation consultation.
Call Personal Injury Attorney Jared Everton at (480) 467-4392 to discuss your case today.